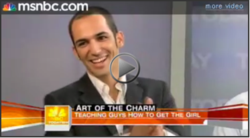 "This took me from a 'lovable loser' to a badass at meeting and attracting women," explains Pellicer, "And I can now teach other guys how to do too…tonight!"
Los Angeles, California (PRWEB) July 06, 2012
What can a self-described "skinny nerd" teach you about dating? A whole lot claims the thousands of men who swear by Mr. Pellicer's book, The Tao of Badass.
"This took me from a 'lovable loser' to a badass at meeting and attracting women," explains Pellicer, "And I can now teach other guys how to do too…tonight!"
Pellicer's book is the culmination of his stint in the men's dating advice. Pellicer has been featured on Sirius Radio's Maxim radio program, was an instructor for the Art of Charm, and began a solo career in the "art of attraction" in early 2011.
"It's been a lot of ups and downs," claims Pellicer. He recently told the horrifying story of the heartbreaking event that caused him to begin studying dating advice. Of course, it happened because of a girl. To hear Pellicer tell his tale of woe, click HERE.
Since 2005, when Neil Strauss released his NYT-best selling memoir The Game, the men's dating advice niche has exploded in popularity. Across the world, men have joined the "pickup community" in hopes to improve their success with women.
"My book isn't a collection of pickup artist tricks!" clarifies Pellicer, separating himself from the pop culture depiction of a "pickup artist"—usually an eccentric and sleazy womanizer. This image was perpetuated by the VH1 reality show The Pickup Artist.
Instead, Pellicer claims his book educates men in "all the things your dad left out." The book explains gender polarity, psychological principles that create attraction, and other tips that are designed for the average guy.
"What I love about the book is how easy it is to use," says Bobby G., a Tao of Badass fan. "Pellicer really nails down everything you need to know to succeed with women."
While Pellicer has taken heat in the past for his controversial stances on dating multiple women, his book has largely flown under the radar of feminists and others who see other aspects of the pickup community as misogynist.
In fact, Pellicer claims that women who are looking to "get back their men" constitute a large percentage of readers of the Tao of Badass. He claims the principles in the book are universal, and work for both genders.
Regardless if you're a man or woman, Pellicer claims his book The Tao of Badass will improve your dating success. "Give it a read," says Pellicer, "If it doesn't improve your dating life, I'll refund every cent of your purchase." Such confidence is perhaps why Pellicer claims he earned the nickname "the chick whisperer."
To learn more about The Tao of Badass by Joshua Pellicer, and to watch a free presentation he prepared on the book, click HERE.