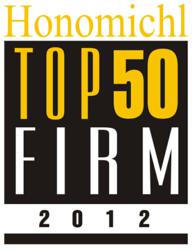 Being honored as a Top 50 firm speaks not just to the quality of our work, but to the strength of our customer-centric approach
Boston, MA (PRWEB) July 02, 2012
Chadwick Martin Bailey (CMB) was named to the "Honomichl Top 50," based on its 18.3% revenue growth in 2011. The Honomichl Top 50 is considered the "Fortune 500 of market research firms," and the announcement comes as the firm continues to expand its brand optimization, segmentation, customer experience, loyalty and social media research offerings to support its clients on critical strategic and tactical decisions.
Chadwick Martin Bailey partners with clients to provide custom market research that addresses the most strategic business decisions. CMB applies leading edge market science in innovative and practical ways across each of its key practice areas: Financial Services, Technology and Telecom, Travel and Hospitality, Retail/e-Commerce, Healthcare, and Insurance. This year, Chadwick Martin Bailey also introduced Pinpoint Suite, a software platform that when integrated with customer experience measurement programs allows managers to act on real-time customer feedback.
"Being honored as a Top 50 firm speaks not just to the quality of our work, but to the strength of our customer-centric approach," commented President Anne Bailey Berman. "As we enter a new era of Big Data, we are here to help companies face the challenge of translating multiple data sources into informed insights and business decisions."
Longtime client Kara Wallace, Director of Global Consumer Insights & Marketing Strategy at Royal Caribbean International added, "The research we do with CMB has lead us to make significant business decisions at the right time and in the right way. Even beyond their advanced analytics, I truly value the people and our partnership we have built through the years. I work with a team of people who are invested in making our business successful."
About the Honomichl 50 List
The "Top 50 U.S. Market Research Ranking and Review" is a report published by the American Marketing Association (AMA), North America's largest professional marketing association, and Inside Research(R), a one-source authoritative report founded in 1990 by Jack Honomichl, a leading market research industry authority.
About Chadwick Martin Bailey
Chadwick Martin Bailey is a Boston-based custom market research firm that works with many of the most successful companies and best known brands in the world to help them acquire, maintain, and grow their customer base. Founded in 1984 by John Martin and Anne Bailey Berman, the company has corporate headquarters in Boston, Massachusetts, serving clients in more than 30 countries around the globe. Chadwick Martin Bailey focuses on using leading-edge research techniques to collect and translate data into simple, business decision-focused deliverables. For more information visit http://www.cmbinfo.com