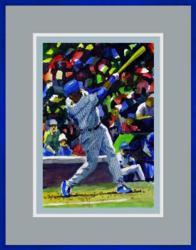 When his children asked if he was going to work, Collins always said, "No, I'm going to fun."
Maumee, OH (PRWEB) July 03, 2012
A graduate of the American Academy of Art in Chicago, Pat Collins began his professional career as a graphic artist, moving from his first job as an illustrator for the Yellow Pages to various advertising agencies until he opened his own business, Collins Advertising Arts. After he married and became a father, when his children asked if he was going to work, Collins always said, "No, I'm going to fun."
After retiring, he returned to his first love, painting, and gravitated towards watercolors, which he enjoyed as a young artist. He finds working in the medium fresh, spontaneous and lively. Recently Collins incorporated another passion of his, baseball, into his art. His favorite subjects are scenes recalled from the sandlot diamonds of his youth and dynamic "Big League" moments, like the one in the featured piece, "Goner."
"Baseball allows me to use bright colors and action. I like working wet on wet--juicy paint on we paper--because it lets me get the colors on quick and strong with great action."
Collins has exhibited in several group shows and a few one-man shows. He belongs to the Lakes Region Watercolor Guild (LRWG) and the Illinois Watercolor Society (IWS), which provide monthly demos and twice yearly workshops that bring fresh techniques into his work. To purchase originals contact Collins via his website at http://www.ArtByCollins.com.
When framing his own work, Collins favors American Frames' metal mouldings, particularly our Radius collection. "The bright colors complement the vibrant hues in my paintings. A frame needs to enhance the work it holds, not just fade into the background, and not dominate."
Our metal sectional frames also offer an economical option when framing several paintings for a show. Often Collins reuses a frame for a different painting because the materials stand up so well and are easy to take apart and reassemble. As a customer, he appreciates our online mock up tool. "I like to see the painting framed and change the background colors before I settle on my treatment."
With its dynamic composition and bright colors, "Goner" is emblematic of Collins' work. "When I was a kid listening to baseball on the radio and a hitter got off a home-run, the announcer would always say, 'Going, going, gone.' I like this image because it captures that moment so well. You know it's a homer without even seeing the ball or the field."
Collins' work would fit well in a sport-themed rec room, a boy's bedroom or a vibrant family room, so we framed "Goner" to highlight this sense of fun and excitement. See the custom treatment on American Frame's blog at http://americanframe.blogspot.com/. To view all of Collins' work, visit his online gallery.