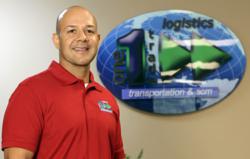 My father brought me to the US when I was 8 years old; he told me anything was possible here.
Dallas / Fort Worth, TX (PRWEB) July 03, 2012
Today at an event in Dallas / Fort Worth, 1 Trade Logistics announced it has received Minority and Women Business Enterprise Status (M/WBE) from The State of Texas. Company executives also announced they have continued their unblemished record of year-over-year growth since their inception in 2005. As they prepare to celebrate the nation's birthday next week, CEO Juan Arango commented on the greatness of the USA for entrepreneurs and how his "high-speed" lifestyle affects business culture.
"We know many companies have suffered or even closed their doors in the current economic climate," said Founder and CEO Juan Arango, in his speech on Friday. "However, we feel fortunate and blessed to have not only survived but to have achieved revenue growth in every quarter since our launch. I believe this is a direct result of our focus on exceptional customer service. We work very hard to make our clients happy."
Mr. Arango and his wife, co-owner "Sol," were born in Colombia and are now naturalized US citizens. They believe that the USA is still the best place to start a business. "My father brought me to the US when I was 8 years old; he told me anything was possible here. I've always believed that, and now I'm living proof. I don't think the kind of success we've had would have been possible in most countries." He says it's a special honor and opportunity to be recognized as a Minority and Women Owned Business Enterprise. "I consider this a great country partly because, as minorities, we get an opportunity to bid on projects that we might not otherwise be considered for. I know that, once we're in the room, clients will recognize and appreciate the difference between 1 Trade Logistics and most logistics companies. There's a quality of service here that attracts and retains customers. This company was built on customer loyalty."
1 Trade Logistics has a high energy culture that is a direct result of its chief executive's "need for speed." Juan Arango skydives, races Ducati motorcycles, and sponsors a local MX race team. He believes that 1 Trade can match or outperform any logistics company in expedited transportation services. They provide daily Next Flight Out (NFO) services for clients as far away as Australia and China. "What can I say? We like to go fast," he joked during his remarks.
About 1 Trade Logistics
1 Trade Logistics is a premier, full-service transportation and logistics company based in Dallas / Fort Worth, TX that provides expedited freight forwarding,logistics management, supply chain solutions, and an international courier service. 1 Trade Logistics is a member of the World Cargo Alliance (WCA), carries a Minority/Women Business Enterprise (M/WBE) and TSA Certification, and is fully licensed through the FMC, IATA, and NVOCC to name a few. Learn more about their transportation and logistics services in Dallas / Fort Worth at 1tradelogistics.com.