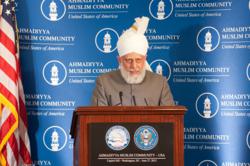 if we desire peace to be established in the world, then we must leave aside our personal and national interests for the greater good and instead we must establish mutual relations that are based entirely on justice.
Washington, DC (PRWEB) July 02, 2012
On Wednesday, June 27th, His Holiness Mirza Masroor Ahmad – worldwide leader (Khalifa) of the Ahmadiyya Muslim Community – received bipartisan support and praise at a special reception on Capitol Hill from over 150 dignitaries, including members of Congress (both the House and Senate), members of the diplomatic corps, foreign representatives of embassies, representatives from the Executive Branch, members of uniform services, thought leaders, faith leaders, NGO and think tank leaders and professors. Once introduced by Leader Nancy Pelosi, His Holiness delivered the event's keynote address.
Prior to the keynote, Rep. Zoe Lofgren (D-CA) presented the Khalifa with House Resolution 709, formally welcoming His Holiness "and recognizing his commitment to world peace, justice, nonviolence, human rights, religious freedom, and democracy." Full text of the Resolution can be found here: http://hdl.loc.gov/loc.uscongress/legislation.112hres709
Everyone in the crowded Gold Room gave the Muslim leader a standing ovation as he came to the podium for his keynote address entitled "The Path to Peace: Just Relations Between Nations." The Khalifa advocated that "peace and justice are inseparable – you cannot have one without the other." The Khalifa stated that the disorder and disruption of peace all over the world is due in large part to the failure of governments to fulfill the requirements of justice.
Mirza Masroor Ahmad advised that Islam teaches the total equality of people of all nations and ethnicities, but sadly "in the United Nations we find that there is a distinction made between certain countries. Thus in the Security Council there are some permanent members and some non-permanent members. This division has proved to be an internal source of anxiety and frustration and thus we regularly hear reports of certain countries protesting against this inequality."
"Powerful and rich countries should not usurp the rights of the poor and weaker countries, in an effort to preserve their own rights, nor should they deal with the poorer nations in an unjust fashion…On the other hand, the poor and weaker nations should not seek to inflict harm on the powerful or wealthy nations, whenever the opportunity arises. Instead, both sides should endeavor to fully abide by the principles of justice."
The Khalifa provided guidance from the Holy Quran on the matter, saying "no party should ever look enviously at the resources and wealth of others. And similarly no country should seek to unjustly appropriate or take over the resources of another country on the false pretext of trying to assist or support them."
His Holiness concluded by saying "if we desire peace to be established in the world, then we must leave aside our personal and national interests for the greater good and instead we must establish mutual relations that are based entirely on justice."
The Khalifa's presence and words on Capitol Hill were widely extoled and praised. Democratic Leader Nancy Pelosi expressed her happiness at the bipartisan welcome that had been extended to the Khalifa. Calling His Holiness a visionary and an inspiration, Leader Pelosi thanked the Muslim leader for his courage and integrity and gave wishes that his dream of peace for humanity is realized.
"On Capitol Hill today, His Holiness offered a message of wisdom and compassion, implored us all to build bridges of understanding, and inspired us to remain dedicated to the mission of peace and the cause of justice," Leader Pelosi said. "His Holiness and his community are a critical thread in the fabric of American life and success, always staying true to our values: pluralism, equality, non-violence among nations and respect among faiths."
America's first Muslim Congressman, Rep. Keith Ellison (D-MN), said the U.S. was "honored by the presence of His Holiness" and that Ahmadiyya Muslim Community USA was proving to be a "true blessing for the people of the United States." During an interview with American University Radio after the event, Rep. Ellison commented: "His holiness comes from a point of great credibility, not only because of his spiritual elevation, but also because the Ahmadi community has been persecuted around the world in ruthless ways. So we need this message of religious tolerance."
Katrina Lantos Swett spoke on behalf of the United States Commission on International Religious Freedom (USCIRF) and Rep. Frank Wolf (R-VA) spoke on behalf of the Tom Lantos Human Rights Commission, both speaking passionately for the cause of religious freedom as evidenced by their helping to put on the event. Senator Robert Casey (D-PA) thanked the Khalifa for bringing together the House and the Senate in this event.
Representative Brad Sherman (D-CA) then thanked His Holiness for his commitment to being "a model of tolerance for the entire world" and later formally recognized and welcomed His Holiness during session at the House floor with the Khalifa and his delegation looking on from the House Gallery. Calling Ahmadiyya Muslim Community USA one of the most organized Muslim communities in the country, Rep. Sherman commended the community for its motto: "Love for all, hatred for none."
"I am honored to have shared a wonderful two days with His Holiness Mirza Masroor Ahmad, Worldwide Leader of the Ahmadiyya Muslim Community," said Rep. Mike Honda (D-CA), who also spoke at the event. "Our powerful discussions on access to a world class education for each child resonated deeply with me and will continue to inspire the work I do in Congress every day. Equally as moving was His Holiness' speech delivered to Congress on Wednesday about the interconnectedness of peace and justice…May this historic visit serve as a powerful symbol for the bright future of international religious freedom."
Please find the full text of His Holiness' comments attached.