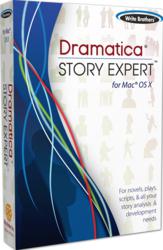 "...Dramatica is still the only tool that responds to writers' choices, giving them customized direction and guidance for creating solid story structure."
Burbank, CA (PRWEB) July 03, 2012
Today, Write Brothers, Inc. announced the launch of Dramatica® Story Expert™, the next evolution of their popular story development software. The new product introduces a completely redesigned interface, support for the latest Mac OS X operating systems, and over 35 new features and enhancements. The software debuts "Gists," a powerful new conceptual tool designed to enable writers to quickly zero in on a perfect structure for their story.
Gists are short phrases that illustrate one of Dramatica's 148 structural terms. For example, "Abducting Someone," "Winning the Lottery," or "Stealing Someone's Secrets" are just three of hundreds of Gists for the Dramatica concept of "Obtaining." The Gists "Starting a Riot" or "Picking Victims at Random" are illustrations of "Chaos." When writers are answering questions, they can search or browse Dramatica's pre-defined collection of over 12,000 Gists. Choosing a Gist automatically selects the underlying structural concept, which helps define the story's underlying argument. Writers can also easily create their own Gists and associate them with structural concepts and can even create collections of Gists that can be shared with other writers.
Besides lowering the learning curve for the new users, Gists also allow the immediate generation of easily readable story outlines and nearly three dozen reports on the story's structure.
Chris Huntley, VP of Write Brothers, and co-creator of the Dramatica Theory, explains that "Dramatica doesn't write the story – the writer will always have that job. But Dramatica is still the only tool that responds to writers' choices, giving them customized direction and guidance for creating solid story structure, powerful characters, and rich thematic content. With the new Gist feature writers can better relate to Dramatica's unique structural questions."
Dramatica Story Expert Availability
Dramatica® Story Expert™ is currently a Mac-only program, designed to support Apple's latest operating systems. A Windows version of Dramatica Story Expert is scheduled for development as soon as the Mac version has launched. The launch date for the product is Monday July 2nd, 2012. You can find Dramatica® Story Expert™ at Screenplay.com and other online resellers such as Amazon.com and WritersStore.com.
About Dramatica:
First released in 1994, Dramatica occupies a unique position in the professional writing community. Informally known as "Hollywood's Dark Program," elite writers are uncharacteristically mum about their use of the tool, lest they disclose a unique competitive advantage. The software has previously been available on Mac & Windows as Dramatica Pro and Writer's DreamKit. Information on the history and theory behind Dramatica can be found on http://www.dramatica.com.
About Write Brothers:
In 1982, Write Brothers Inc. (formerly called Screenplay Systems) invented the first screenplay formatting system, Scriptor. For 30 years the company has been the world leader in developing software for screenwriting, film and television production, fiction writing, and creative story development.
Write Brothers is the only company to win an Academy Technical Achievement Award from the Academy of Motion Pictures Arts and Sciences for the development of screenwriting software. Write Brothers' software is sold worldwide and has been used by the industry's most demanding professionals for the development of film and television shows.
Write Brothers currently holds four software patents. It holds two for Dramatica® , and one for the timeline-based presentation of text used in the Outline 4D™ outlining software. A fourth technology patent for the Streamline tool used by Movie Magic Screenwriter has just been granted.