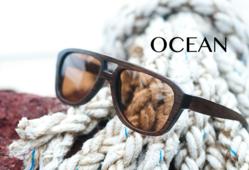 "It came to us a natural idea to combine our love of nature with our eyewear by offering sustainability in our merchandise and building eco-awareness into our marketing."
Marina del Rey, CA (PRWEB) July 03, 2012
Siempre Verde, a new fashion brand, has launched its high-end line of men's and women's eyewear just in time for summer. Siempre Verde, which means, "forever green" in Spanish, expects to translate trendy looks into support for vital reforestation efforts around the world.
Projecting the hip vibe of Southern California's beach scene, the family-owned and locally operated Siempre Verde cultivates unique, upscale design while championing environmentally friendly practices. The Siempre Verde frame is 100% handmade, is extremely lightweight and features sturdy, color-stained Bamboo, Ebony, Birch, and Zebra Woods. Each frame has stainless steel spring hinges for added comfort and durability.
The first Wood Eyewear company to offer single-vision prescription lenses delivered to your door, all prescription frame styles are fitted standard with anti-reflective coated lenses. And all sunglasses come standard with polarized lenses. These premium quality lenses improve vision, decrease computer and outdoor glare, and reduce eyestrain. They offer high index, high quality polycarbonate lenses and photochromic lenses, to give you the best of both worlds with lenses that transition to sunglasses in the sun.
The company has unveiled a 5 piece collection in their debut collection, offering modern design versatility, classic styles, and vintage looks. Featured are OCEAN, their Bamboo Aviator sunglass frame- also available in zebrawood, SEPULVEDA, a Bamboo ophthalmic two-tone frame and VENICE, an Ebony Wood beauty with unique technology allowing prescription lenses to be placed into an all-hardwood frame.
Siempre Verde's mission is to provide style-conscious urban professionals with naturally inspired accessories that can also raise their environmental awareness. Its unique value propositions include free shipping, prescription wood eyewear delivered to the customer's door, a home try-on program allowing customers to sample up to 3 pair in their home for 5 days, and a high level of customer service.
Urban dwellers and fun-loving beachgoers looking forward to their season in the sun can learn more about Siempre Verde's product line by visiting http://www.ShopSiempre.com. To get styles at pre-retail prices for a limited time, visit the Siempre Verde Kickstarter Page today.
Siempre Verde's will arrive to backers in September and in the winter/spring season to retail stores nationwide.