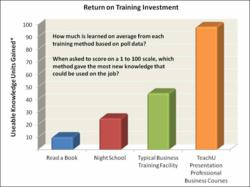 We have invested years creating this advanced level presentation training program. You can now get the benefits of our research.
Boston, CA (PRWEB) July 05, 2012
"We have finished implementing an entirely new approach to business presentation training by incorporating college-level business concepts into our courses," writes Chris Reich of TeachU Presentation's break-through presentation training program with college level business ideas incorporated in the classes.
This is an entirely new approach to presentation training and the results are fantastic. While most presentation is focused on 'look', TeachU Presentation is completely aimed at achieving the client's goals. Reich asks, "How can a presenter be truly successful without an understanding of current business thinking?"
The presentation training, offered at customer's sites anywhere in the United States, includes work in Strategic Business Thinking and Game Theory. Understanding how decisions are made and working with that understanding produces obviously better results.
"My goal through this and every program I offer is to build American business. As each business we work with does a little better, that might mean a job for an American. Let's create jobs together!" encourages Chris Reich.
TeachU Presentation is a wholly-owned subsidiary of TeachU.
Chris Reich, CEO may be reached by email:Chris(at)TeachUPresentation(dot)com or by phone: (530) 467-5690 The company is headquartered in California with clients in nearly all 50 states.