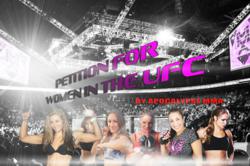 Apocalypse MMA

"No Company can lead an industry, act with rugged autonomy, innovate, or implement new ideas, if that company itself is deficient in its originality and perseverance."
(PRWEB) July 03, 2012
APOCALYPSE MMA currently holds the largest petition in the world for women in the UFC. APOCALYPSE MMA believes that the exclusion of women from the UFC is an equality issue:
Women should be competing among the best women fighters in the world, including a chance to compete in the UFC and not just in the smaller promotions. Just as the corporate world had glass ceilings for women in the past, today the UFC represents the glass ceiling for professional woman fighters. It's 2012, and everybody should have the same opportunities on an equal playing field.
APOCALYPSE MMA has been the dominate force in supporting Women's MMA and currently has one of the world's largest Petitions for women's rights in mixed martial arts on Facebook.
With the rapid and monumental rise of MMA fans worldwide, APOCALYPSE MMA has become a pioneer in the advancement of woman's rights in mixed martial arts. With the recent successes of Ronda Rousey, Zoila Gurgel, & Miesha Tate along with the growing understanding of mixed martial arts, this trend will only increase in the future. A great recent example is Strikeforce's Tate vs. Rousey fight. For more information on APOCALYPSE MMA please visit us on Facebook, or www,ultimateapocalypse.com
You can learn more about the co sponsors of the article below:
The article co sponsored by APOCALYPSE MMA and Derek Ciapala. APOCALYPSE MMA is an American based company co-founded by two lifelong MMA friends. APOCALYPSE MMA's founders include both a United States Marine veteran and an award winning artist. Derek Ciapala is former Navy veteran & freelance a writer.
The Petition for Women in UFC HERE.
Derek Ciapala(main writer for article) has been following MMA since the days when Ken Shamrock and Royce Gracie fought in the octagon. You can follow him on Twitter @dciapala