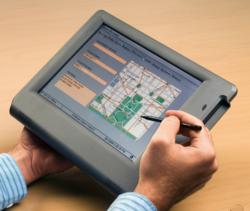 ExpressPoll takes the complexity out of the elections, and ensures voters are afforded an accurate and reliable check-in process
Omaha, NE (PRWEB) July 02, 2012
As all signs point to record turnout levels, voters who cast ballots in the 2012 Presidential Election will experience faster than ever check-in times and less polling place confusion thanks to the ES&S ExpressPoll electronic poll book.
Replacing the cumbersome and bulky paper registration listings, the ExpressPoll stores voter information on lightweight, tablet-style devices that election workers can retrieve instantly just by touching the screen. The ExpressPoll cuts down the time it takes poll workers to check in voters by more than half while reducing long lines and waits, eliminating errors and instilling voter confidence.
"With step-by-step instructions, the ExpressPoll makes the voter validation process more intuitive for election workers and walks them through the often complicated and time-consuming job of checking in voters and issuing correct ballots," said Tom Burt, ES&S Executive Vice President and Chief Operating Officer. "The ExpressPoll takes the complexity out of the elections, and ensures voters are afforded an accurate and reliable check-in process."
With more than 17,000 units deployed in thirteen states – including two statewide implementations – and used by more than 225 election authorities, ExpressPolls will ensure millions of voters that their votes will count in November.
In addition to reducing the cost of printing paper poll books and precinct rosters, the ExpressPoll saves election authorities significant money in staffing and overtime costs. Election authorities report experiencing up to an 80 percent drop in phone calls from election workers needing assistance from Election Central. As a result, election staff is free to address other Election Day issues and operations.
"This is a high-tech, low-cost improvement that has transformed the election process around the country and will save local jurisdictions money in the long run," said Rick Dixon, Project Manager at ES&S. "With the ExpressPoll, polling places will have the most up-to-date election information for the respective precinct, the county, even the entire state, reducing the issuance of provisional ballots and protecting against voter fraud."
About ES&S
For more than 40 years, Election Systems & Software has sought to improve and enhance the electoral process for voters, poll workers and election administrators. Its commitment to elections has made it the industry leader. Headquartered in Omaha, Neb., with more than 450 highly skilled employees, ES&S continues to develop and introduce innovative products, serving more than 4,000 election authorities in 41 states with more than 300,000 units deployed. For more information, visit http://www.essvote.com.