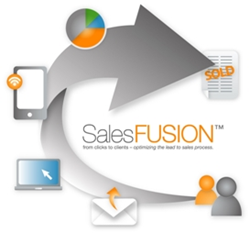 Coverall represents exactly what our clients strive for...which is improved revenue from marketing to sales integration.....Kevin Miller, CMO, SalesFUSION
Atlanta, GA (PRWEB) July 03, 2012
SalesFUSION™, the maker of SalesFUSION 360, an integrated sales and marketing demand generation platform, announced today that two of its clients have received the 2012 Sales and Marketing Integration Award from Demand Gen Report. Coverall, a client of SalesFUSION and use of Sage SalesLogix CRM won the award by demonstrating how the combination of SalesFUSION technology and best practice processes improved performance of their overall lead management initiatives.
While sales and marketing collaboration proves to be challenging for many companies, DemandGen Report (DGR), acknowledges B2B organizations that have utilized automation technology and tactics in the 2012 Sales And Marketing Integration Awards. Winning organizations are recognized for their accomplishments in driving revenue by upgrading lead generation and lead management programs and leveraging marketing automation technology to create more sophisticated, repeatable processes for success.
"While B2B organizations have traditionally focused on mapping marketing automation to CRM systems, business success today hinges on the integration of many different tools and platforms," says Amanda Batista, Managing Editor of DemandGen Report. "That's why our 2012 Sales And Marketing Integration Award winners demonstrate a unique ability to tie technology integrations to their overall demand generation processes." This special report profiles winners for their accomplishments integrating the following criteria:
•Data- Enhanced data integration to provide sales and marketing with new visibility into prospect and customer touch points;
•Social- Managing and cultivating social communities to monitor conversations, refine marketing messaging and enable sales;

Targeting- Segmenting prospects and customers to provide relevant content based on pre-determined attributes, such as digital behavior and activity;
Online events- Using online event and webinar platforms to enhance segmentation strategies, nurturing, scoring, data collection and application, as well as sales acceleration; and
Sales Enablement- Implementing tools and tactics to help marketing empower their companies' sales teams.
Coverall has been a client of SalesFUSION for over a year now and became an early-adopter of SalesFUSION's enhanced integration to Sage SalesLogix. With the marketing automation system in place and directly connected to their CRM, Coverall was able to dramatically improve the process of lead generation and lead distribution to their large team of field sales. Coverall uses SalesFUSION360 for email marketing, lead scoring, landing pages, social publishing and nurture-based marketing programs.
Said Kevin Miller, Chief Marketing Officer for SalesFUSION; "Coverall and their team has been a model customer in every sense of the word. They bought into the philosophy that sales revenue will increase if you streamline and automate the lead to sales process. They selected SalesFUSION as their vendor for MA software because of the deep functionality and pre-built integration to Sage SalesLogix."
About SalesFUSION
SalesFUSION 360 provides software that accelerates revenue by connecting sales and marketing with prospects at the moment they are ready to buy. This is made possible through the SalesFusion 360™ suite, which complements Sales Force Automation applications by adding an on-demand enterprise lead management service. SalesFUSION 360 increases lead quantity, lead quality, and revenue conversion rates by integrating and automating the lead management process. For more information, visit http://www.salesfusion.com.