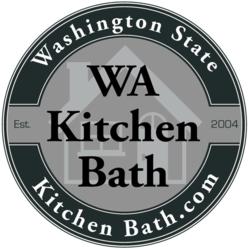 Seattle, WA (PRWEB) July 03, 2012
In an unprecedented effort to protect customers from dangerous toxic mold that easily grows in the showers and bathrooms of the damp Northwest, Washington State Kitchen and Bath (VA Builder ID 2322) has adopted the WEDI system as its exclusive tile installation system and is offering customers a limited time promotion.
This new decision sets Washington State Kitchen and Bath apart as a contractor interested in the health and well-being of customers and as an environmentally conscious business. By adopting WEDI as its exclusive tile installation system, WSKB helps safeguard against toxic mold in bathrooms. WEDI's system is 100% waterproof and lightweight, with a full-system warranty, and includes the following accessories: ramps, curbs, pre sloped shower pans, wall niches, sealant, fasteners, soap dishes, drains, and wallboard. WSKB is committed to never using problematic gypsum board or similar wallboard panels, as these products have a significant history of mold contamination. This commitment includes a ban on any type of concrete backer boards in wet areas like showers and tubs.
Toxic mold litigation has increased dramatically over the past ten years, as the health risks associated with toxic mold infestation can be severe. Washington State Kitchen and Bath is dedicated to protecting the health and assets of customers, ensuring that they live mold-free, healthy lives. Mold is a fungus that feeds on organic materials, thrives in damp environments, and produces toxins that are released into living space. Mold commonly infests widely used tile installation boards, sickening homeowners and destroying structures.
Washington State Kitchen and Bath is offering a limited time opportunity for customer's interested in remodeling. Customers may be eligible to receive a free 3' x 5' WEDI shower pan. Call today for details about this promotion and about our 6 months, no payments or interest financing, O.A.C.).
To schedule a free, no pressure, in-home consultation, and free estimate, interested parties should contact Erin Belmore, General Manager, or staff at (800) 935-5524.
About Washington State Kitchen and Bath:
Washington State Kitchen & Bath is a locally owned and operated corporation based in Woodinville, Washington. Because our company is independent and unconnected to a franchise, customers can select from a wider variety of products and services with confidence. Washington State Kitchen and Bath uses only the highest quality materials and ensures that certified installers complete every job. Refreshingly, our business model is based on avoiding high-pressure sales tactics and on earning the respect of every customer. We work hard for our customers, delivering a full spectrum of quality home improvement services on their terms.
With a Better Business Bureau A+ rating and an A rating on Angie's List, Washington State Kitchen & Bath (WSKB), your premier bathroom, kitchen and home remodeler, is built on honesty and integrity. WSKB is fully licensed, bonded and insured as a general contractor in Washington State.
Contact us at: (800) 935-5524 or visit us online at http://WashingtonStateKitchenBath.com Like us on Facebook to learn about and spread the word on our VA/Civil Servant 5% Discount on Home Improvement Services: http://Facebook.com/WaKitchenBath
12601 NE Woodinville Dr. Ste. E4, Woodinville, WA 98072
(425) 381-4416