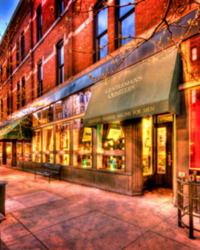 Small businesses have to creatively work together to drive business to each other.
Denver, CO (PRWEB) July 03, 2012
Happy hours aren't news. Every bar has one everyday. But when an upscale Denver barber shop teams up with famed Charlie Palmer's District Tavern steak house to combine their loyal crowds, that's innovative.
GQ Barber Lounge kicks off their 2012 Happy Hour Series called "Distinctive Drinks for Distinctive Gentlemen (and Ladies)" on July 25, 2012, 5:30 p.m. to 7:30 p.m. at Charlie Palmer's District Tavern, Denver, Colorado.
Bill Chrismer of GQ Barber Lounge said that "the Happy Hour Series isn't about our barber shop or District Tavern, it's about our customers and hosting an opportunity to connect our respective clientele. We provide complimentary cocktails and plentiful appetizers in an upscale environment that encourages conversation and connections."
By hosting these events, customers of GQ Barber Lounge and District Tavern have an opportunity to meet similar people that share the same interests and tastes. Joe O'Brien of District Tavern said that "what happens is that our respective customers make new connections and strengthen relationships in an upscale and hip setting. Affluent business people, who typically shun networking events, wind up networking without even knowing it, and they have a great time."
Small businesses have to market creatively, and GQ Barber Lounge and District Tavern are working together to provide an experience for their customers while driving business to each other.
For more information, contact:
Bill Chrismer
Head Sweeper and Storyteller
GQ Barber Lounge
(303) 991-1010
bill(at)gqbarberlounge(dot)com
Kristin Kelly
Communications Director
GQ Barber Lounge
writer(at)kristinlkelly(dot)com