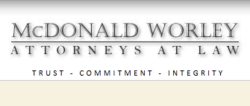 Let us fight with the insurance companies to achieve justice for you...
(PRWEB) July 03, 2012
People involved in a semi truck accident can now get an experienced truck accident attorney representation as law firm of McDonaldWorley.com is accepting new clients nationally.
People in accidents involving a big rig as well as semi drivers are encouraged to contact the attorneys immediately for a free, no obligation, legal evaluation.
According to the site, insurance companies are very quick to try and settle with plaintiffs before they can get an attorney as they typically will pay less this way. A seasoned and experienced attorney knows the value of a personal injury case and can help get deserved compensation that can help with medical and repair costs.
The trucker attorneys at McDonaldWorley.com have are experienced with the legal requirements of accident cases and dealing with the insurance companies and take accept cases regardless of which state the truck related accident occurs.
In addition, the firm is accepting members of the trucking industry that has suffered health problems associated with prolonged exposure to diesel fumes.
Following a driving injury the parties are encouraged to seek legal help immediately.
"You may be entitled to a financial settlement to compensate you for your medical treatment, lost wages, as well as pain and suffering," stated Don Worley, lead attorney.
The McDonaldWorley.com accident and injury law firm consists of Donald S. Worley, who has been a member of the Texas Bar Association since 1997, and Michelle R. Eddington, a former nurse who has been a member of the Texas and Arkansas Bar since 2003 and 2004 respectively. Together they make a formidable pair in pursuing accident injury claims in truck accident cases.
Contact:
Don Worley, Lead Attorney
Phone: (713) 523-5500
http://www.mcdonaldworley.com