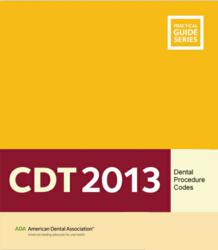 Proper coding is the key to maximizing reimbursement and minimizing audit liability. All dental professionals must make sure that their coding and billing staff is using the most current CDT codes.
Los Angeles, CA (PRWEB) July 03, 2012
Dentists and oral surgeons are required to report CDT 2013 codes on dental insurance claims for all services performed on or after January 1, 2013. The new codes will improve reporting of dental procedures and services, improve payment processing, and reduce audit liability for dental professionals.
In order to be paid by insurance companies, dental professionals must submit insurance claims that report the services provided. To facilitate this process, dentists and oral surgeons use a coding system, known as Current Dental Terminology (CDT). Each CDT code defines a specific dental service or procedure. Use of the correct code improves the potential for full reimbursement and also reduces liability, in the form of fines and penalties, in the event of an audit of billing records.
CDT codes are revised annually by the American Dental Association (ADA) and are mandated by the Health Insurance Portability and Accountability Act or HIPAA. The ADA recently announced the forthcoming publication of Current Dental Terminology 2013. The new codes will be released in October and dental professionals are encouraged to place orders as soon as possible in order to guarantee receipt of the codes before the implementation deadline.
About Practice Management Information Corporation (PMIC):
PMIC is the nation's leading independent publisher and reseller of medical and dental coding and compliance books, forms and software. Serving dentists, physicians, hospitals and third party payers, PMIC takes great pride in providing current, accurate, and unbiased information, along with excellent service and value, to all of its customers.
American Dental Association, "ADA", and the ADA Logo are registered trademarks of the American Dental Association. The Code on Dental Procedures and Nomenclature (Code) is published in Current Dental Terminology (CDT). Copyright © American Dental Association. All rights reserved. CDT and CDT 2013 are trademarks of the American Dental Association.