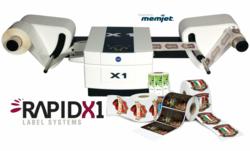 Tampa, FL (PRWEB) July 03, 2012
Rapid Label Systems will be exhibiting with the Rapid X1 at the American Cheese Society's Cheese Rally in Raleigh Conference. Registration for the ACS Annual Conference, Cheese Rally in Raleigh: Owning Our Future, is open.
The show will run from August 1st through the 4th with Rapid Label Systems showcasing the Rapid X1 from the 2nd to the 4th. To inquire about the Cheese Rally in Raleigh or the Memjet powered by the Rapid label printers, Rapid X1 and X2 printers, please contact Impression Technology Americas immediately.
Both printers print at speeds up to 60 feet per minute and a resolution of up to 1600 x 1600 dpi and are available in North, Central and South America.
http://www.cheesesociety.org/conference/overview/
Impression Technology Americas
Rapid Label Systems
Josiah Gross
5409 S. Westshore Blvd.
Tampa, FL 33611
877-450-1238
813-549-0796
sales(at)rapidlabelsys(dot)com