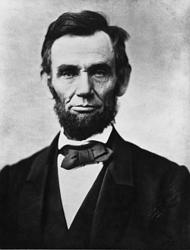 If education in the mid-19th Century was more for society's elite, CSU President Frank said, the Morrill Act had more of a blue-collar aspect. This was for anyone who had talent and motivation. It didn't matter how much money your parents had.
Fort Collins, CO (PRWEB) July 04, 2012
Colorado State University celebrates 150 years of progress and innovation with universities across the nation, made possible through the Morrill Act signed by President Lincoln on July 2, 1862 to establish land grant universities.
Until the Morrill Act, college education was mostly about liberal arts. It was almost exclusively for white men from wealthy families, graduating with degrees in philosophy, medicine, law or religion. The 1862 legislation was designed to support a more hands-on curriculum, useful training that would help the new nation develop a more sophisticated industrial base and a scientific approach to agriculture.
"The 150th anniversary of the Morrill Act makes 2012 a historical year," said Craig Beyrouty, dean of Colorado State's College of Agricultural Sciences. It is, he said, "a great time to reflect on the ongoing importance of our land-grant mission in providing access to higher education for a broad population of students – and, particularly, to continue striving ahead with our unique expertise in providing education, research and outreach related to agricultural sciences."
"Land grant universities have always had a practical mission," Dr. Tony Frank, CSU president said. And while the "mechanical" piece of the mission has been adopted by non-land-grant universities – Harvard offers engineering programs, for example – the agriculture function, as Frank says, "is still pretty unique."
The Morrill Act granted tens of thousands of acres of federal land to each state to subsidize colleges "where the leading object shall be, without excluding other scientific and classical studies, and including military tactic[s], to teach such branches of learning as are related to agriculture and the mechanic arts, in such manner as the Legislatures of the States may respectively prescribe, in order to promote the liberal and practical education of the industrial classes in the several pursuits and professions in life."
If education in the mid-19th Century was more for society's elite, Frank said, the Morrill Act "had more of a blue-collar aspect…. This was for children of common people, and anyone who had talent and motivation. It didn't matter how much money your parents had."
It was one of the more transformative events of the Industrial Revolution, impacting both the largely rural and agrarian society of early America, as well as the rapidly evolving industrial cities. The children of farmers now had an opportunity to attend school to learn how to increase production; prospective engineers were given access to the latest developments in efficient machinery. Together, these new approaches began to elevate the standard of living for larger numbers of citizens of the comparatively new nation.
The colleges funded by the lands the Morrill Act granted to the states have continued to evolve into major research institutions, including CSU – consistently making top ranks in national lists for research and quality of education. Today there are more than 100 land-grant schools, including Colorado State University, and they have graduated more than 20 million students.
Today the notion of a broadly accessible higher education is more difficult to achieve. Admission requirements are more stringent, and budgets are stretched because of a shrinking fiscal commitment from state government. Colorado State has addressed these challenges in a couple of ways. One is Commitment to Colorado, a program that began with the incoming class in 2011. It provides reduced tuition rates, or free tuition, for students whose families might not otherwise be able to afford college.
"We saw an uptick in low-income enrollment and retention" after Commitment to Colorado was instituted, President Frank said. "I think that's a new version of Morrill and Lincoln's promise – that land-grant universities are for anybody with talent and motivation, regardless of your family's financial status."