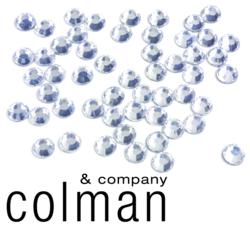 Tampa Florida (PRWEB) July 04, 2012
Colman and Company, a national apparel decorating supplier based in Tampa, FL that specializes in Hotfix Rhinestones, Direct to Garment and Embroidery Supplies announced today that it is expanding its business into the retail sector by offering select items through Sewing Centers around the country.
The company cites the wide popularity of several of its products targeted towards consumers or home embroiders as the impetus for this move into the retail marketplace. The company so far has been focused on providing commercial and professional embroidery supplies such as Madeira Polyneon embroidery thread, Coats and Clark and Fil-Tec Magnetic bobbins, backings and toppings from Solvy and H&V and many other brands to the commercial market. The less commercial items, like the Patch Kit embroidered patch making kit and the Glitz Up Tool for adding Hotfix rhinestones to clothing, have been offered as add-ons to their commercial clients. These two specifically will now also be offered through Sewing Stores and Retail Centers as well because of their ease of use and mass appeal.
The Glitz Up Tool is a rhinestone applicator wand with a vacuum and heated built in. The unit is designed to easily add Hotfix rhinestones (which come with glue on the bottom already) to any textile. It's most commonly used to add "bling" to T-Shirts, jeans and caps, enhancing an existing wardrobe item or customizing new purchases. The Glitz Up will be offered in two configurations; the standard Glitz Up for $99.00USD, which includes the tool itself and a bag of assorted rhinestones, Rhinestuds and Hotfix nail heads as well as the Rhinestone Starter Kit for $199.00USD which includes accessories and a wide selection and larger quantity of Hotfix rhinestones.
The other item being offered in the retail channel is the Patch Kit. This original bundle configuration put together by Colman and Company allows Embroidery professionals and enthusiasts to create iron on or sew on patches in small quantities. Typical applications include uniform patches for small business, motorcycle and team patches. The Patch Kit Duo model includes 2 yards of patch material, heat seal glue and all the accessories necessary to produce embroidered patches.
Management is currently accepting dealer inquiries from Sewing Centers and Craft Retailers around the country to carry both products.
For more information contact:
Mark Stephenson
Colman and Company
5409 S. Westshore Blvd,
Tampa, FL. 33611
1-800-891-1094