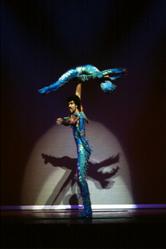 If you are a dance teacher, you simply cannot afford to miss this event
Las Vegas, Nevada (PRWEB) July 26, 2012
The Dance Teacher Web LIVE Conference & Expo will once again be held in Las Vegas. Dance teachers will gather to share ideas, knowledge and expertise. "We are thrilled to have such a terrific lineup of master teachers" says Conference producer Steve Sirico.
Attendees will be treated to four full days and nights of classes, seminars, parties and performances. Over ninety movement classes and business seminars are set with an All-Star faculty.
The Expo, which is free to the public, features the top names in the dance industry like Capezio, International Dance Supplies, Access Broadway, Stagestep Flooring, DanceInforma and Costume Gallery to name a few. "Last year our exhibitors gave away over $5,000 in cash and prizes to attendees and we anticipate exceeding that this year" added producer Steve Sirico.
The top three features of this year's Conference are one, a unique setting with a faculty and curriculum attendees will not find anywhere else, two, attendees will receive access to a website following the event where they can view videos of the classes held during the Conference and three, an opportunity to network with teachers from around the world. "If you are a dance teacher, you can't afford to miss this event. Dance Teachers will go home with more knowledge, improved business practices and class content that will last them for years to come," says producer Angela D'Valda Sirico
The full registration fee is $549.00 to participate in all sessions and group discounts are available. To register visit http://www.danceteacherexpo.com or call 203-545-7167. Dance Teacher Web has secured a special room rate at the Red Rock Resort of $109 per night when attendees ask for the Dance Teacher room rate. Attendees can book their hotel room by calling 866-767-7773
Dance Teacher Web is the trusted online dance resource that deepens continuing education skills and fosters a positive community filled with motivation and support for dance studio owners and teachers. Through our unique Dance Teacher Web membership options, dance teachers and studio owners take their teacher training or business development to new heights from the comfort of their studio, home or office. Members get 24-7 access and prolonged mentoring through articles, how-to videos, choreography and business tips. Our mission is to provide instantaneous results. Dance Teacher Web LIVE brings to life everything that is unique about Dance Teacher Web in four fabulous days every year in August.