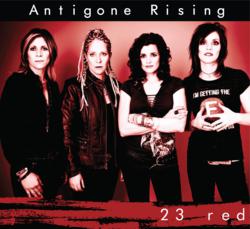 This new album has ten outstanding Adult Indie/Country Pop/Rock songs. Each song has great melody, singing, harmonies, and great musicanship
Uncasville, CT (PRWEB) July 03, 2012
Come play Roulette with Antigone Rising, the all female Country/ Rock band, who will be performing at The Wolf Den at Mohegan Sun on Monday, July 9, 2012. Mohegan Sun has designated a Roulette Table to be used exclusively for the band and their fans between the hours of 4-5 pm and immediately following their 8 pm show. This is the first time Mohegan Sun has honored a band with this type of event.
Mohegan Sun played an important part in the naming of "23 Red," Kristen Henderson, bassist and founding member, says "we were playing a show at Mohegan Sun Casino, and after it was over, Nini Camps, lead vocalist said we could find her at the blackjack table losing money, and that her good-luck color and number were 23 Red." As it turned out, that was also the favored combination of the band's guitar tech. The coincidences didn't end there: "I went to Glen Cove High School," Henderson explained, "the sports team there is the Big Reds, and my number was 23. Now, any time we play a show, we all put our hands in a circle and say '23 Red' – it's become kind of our band mantra for rebirth and staying together."
The band most recently returned from Israel and The West Bank as Arts Envoys, a cultural initiative sponsored by the U.S. Department of State. During the trip, Antigone Rising performed in Jerusalem, Tel Aviv, Ramallah and other regional cities, leading community outreach workshops and making music with Israeli and Palestinian musicians. A truly inspiring trip, Antigone Rising demonstrated that all cultures appreciate and connect to the language of music.
Antigone Rising exploded into the spotlight in 2005 becoming the first band on Starbuck's Hear Music (Lava Records) with their best selling debut LP. A lineup change brought Nini Camps to the band, whose voice blends perfectly with the signature style soaring three part harmonies of founding sisters Kristen Henderson (bass /vocals), Cathy Henderson (lead guitar /vocals) and Dena Tauriello (drums), that Antigone Rising has become known and loved for. The band's latest CD, "23 Red" continues to turn heads as their themes abound with songs that speak to the full range of emotions and life. The band has opened for such acts as The Rolling Stones, Aerosmith, Joan Jett and The Blackhearts, Rob Thomas and The Bangles, and are favorites in festivals around the country.