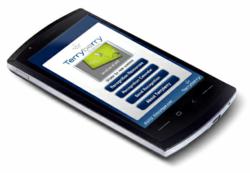 (PRWEB) July 05, 2012
Terryberry, a leader in the employee awards and recognition industry, announced the advent of a new age in the world of employee appreciation and recognition – the arrival of the free mobile app iRecognize by Terryberry to be used on smartphones including the iPhone and Android.
The new app, which will be available for download at no charge on the Terryberry website, allows individuals to give recognition to deserving friends, family, co-workers and staff directly from a mobile phone. The mobile app can also be downloaded by iPhone users for free at iTunes and by Android users at the Google Play store.
"iRecognize by Terryberry is going to make it so shockingly simple to give recognition for achievements that it could literally transform the levels of engagement and enthusiasm within organizations and personal networks," disclosed Mike Byam, Managing Partner at Terryberry. "For many managers, one key to creating a sustainable plan for employee recognition is to make the tools accessible and easy to use. Putting the tools on your mobile device is the ultimate way to make employee appreciation work for today's busy professionals."
The new application by Terryberry features a simple visual interface that allows anyone from an HR professional to a layman to instantly send a message to a deserving person using Facebook, Twitter, a cell phone text message, or an e-card sent via the Internet. The app will also feature a calendar for important recognition dates & reminders plus interactive recognition tools like Terryberry's presentation cheat sheet and more. Uses of the application can include birthday greetings, work anniversary congratulations, and reminders on impending important dates in the lives of associates.
iRecognize is Terryberry's second mobile app in the marketplace. Terryberry released their first mobile app in 2011; a smartphone interface for the social media-styled GiveAWOW platform.
iRecognize by Terryberry is the perfect personal recognition assistant for managers, HR professionals or anyone who wants to do a better job of appreciating the accomplishments of those around them. Terryberry is delighted to offer this mobile application for free to interested individuals. No stranger to online and new technologies, Terryberry also offers other technology-based employee recognition strategies to its many clients around the globe.
Terryberry debuted the free iRecognize by Terryberry mobile application at the 2012 SHRM Annual Conference and Exposition in Atlanta in June.
About Terryberry
Terryberry serves more than 25,000 clients throughout North America, Europe and Australia. Family-owned for four generations, Terryberry specializes in employee appreciation and employee recognition gifts, products and services to keep employees engaged and motivated and companies growing in positive directions. For more information, please visit http://www.terryberry.com.
***