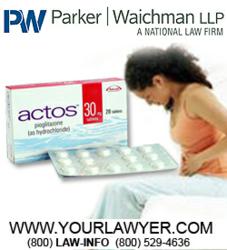 (PRWEB) July 02, 2012
Parker Waichman LLP, a national law firm dedicated to protecting the rights of victims injured by defective drugs and medical devices, has filed a lawsuit alleging Actos caused bladder cancer in one Tennessee resident. The suit was filed on June 14th in the U.S. District Court for the Western District of Louisiana (Case No. 6:12-cv-1663). It is pending in the multidistrict litigation as part of In Re: Actos (Pioglitazone) Products Liability Litigation, where Jerrold S. Parker, founding partner of Parker Waichman, has been appointed to the Plaintiff's Steering Committee. Takeda Pharmaceuticals America, Inc., Takeda Pharmaceuticals USA, Inc., Takeda Pharmaceuticals North America, Inc., Takeda Pharmaceutical Company Limited and Eli Lilly and Co. have been named as Defendants (lawd.uscourts.gov/MDL2299; lawd.uscourts.gov/MDL2299/html/news.html)
According to the complaint, the Plaintiff took Actos from approximately 2002 to 2011. The suit alleges that the diabetes drug caused the Tennessee man developed bladder cancer in December 2004. The lawsuit is claiming that Actos caused severe mental and physical pain and suffering, past and future permanent injuries and emotional distress, economic loss due to medical expenses and living related expenses as a result of a new lifestyle. The suit is also seeking compensation on behalf of the patient's wife for loss of consortium.
The Plaintiff could have avoided the effects and injuries if the Defendants had properly informed the public of the risks, the lawsuit alleges. According to the complaint, the manufacturers knew or should have known about the risks associated with Actos, especially the significant increased risk of bladder cancer following a year of use. The suit alleges that, because the Defendants failed to warn of such risks, patients have been unnecessarily exposed to bladder cancer.
The U.S. Food and Drug Administration (FDA) approved Actos as a type 2 diabetes drug in 1999. The agency notified the public about the drug's link to bladder cancer in its Safety Announcement in September 2010; according to preliminary results of an ongoing ten-year study, an increased risk was associated with using Actos for at least two years. Last June, the FDA updated this information, warning that the link is apparent after only one year of exposure. According to this second Safety Announcement, users were 40 percent more likely to develop bladder cancer after one year compared to those who had never taken the drug. The risk increased with time and dosage, the agency said. (fda.gov/Drugs/DrugSafety/ucm226214.htm; fda.gov/Drugs/DrugSafety/ucm259150.htm)
Around the same time, use of Actos was suspended in France and Germany after a French Medicines Agency-funded study revealed an increased risk after one year of use among male diabetic patients taking Actos. A recent study in the British Medical Journal also supported the link between Actos and bladder cancer. According to the authors, two years of exposure correlated with a two-fold increased risk. (bmj.com/content/344/bmj.e3500?utm_source=feedburner&utm_medium=feed&utm_campaign=Feed%3A+bmj%2Frheumatology+%28Latest+Rheumatology+articles+from+the+BMJ%29)
Parker Waichman LLP continues to offer free legal consultations to victims of Actos. If you or a loved one were diagnosed with bladder cancer after taking Actos, please contact their office by visiting the firm's Actos injury page at http://www.yourlawyer.com. Free case evaluations are also available by calling 1 800 LAW INFO (1-800-529-4636).
For more information regarding Actos side effect lawsuits and Parker Waichman LLP, please visit http://www.yourlawyer.com or call 1-800-LAW-INFO (1-800-529-4636).
Contact:
Parker Waichman LLP
Gary Falkowitz, Managing Attorney
(800) LAW-INFO
(800) 529-4636
http://www.yourlawyer.com