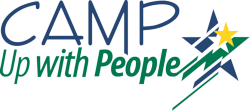 HARRISONBURG, Va (PRWEB) July 03, 2012
The Shenandoah Valley summer camp scene is about to erupt into song and dance as Camp Up with People, a partnership program between the international Up with People, the non-profit Horizons Learning Foundation and Camp Horizons, begins its second season. The performing arts camp program for teens 13-17 also focuses on leadership training, community service and global citizenship.
Teens from across the nation and from 14 other countries will attend the two three-week sessions of Camp Up with People this summer. The first session, Cast A, started Sunday, July1, and runs through July 21. Cast B runs July 22-Aug. 11.
Teens spend the bulk of their time delving into the performing arts, learning song and dance routines similar to the trademark performances of Up with People. However, teens also enjoy traditional summer camp activities at CUWP's sister camp, Camp Horizons, such as swimming, horseback, high and low challenge courses, talent shows and campfires. Campers also venture to Nelson Rock Outdoor Center in West Virginia to experience the Via Ferrata climbing adventure and the North Fork Valley Canopy Tour. Additionally, campers take a field trip to Washington, D.C., to visit the cultural and historic sites there, and, as part of their cultural exchange, spend the weekend with hosts families, many of whom are alumni of Up with People.
CUWP campers and staff also give back to the community through a number of service projects. This summer, teens will volunteer at the Harrisonburg Children's Museum and Valley Fourth activities, as well as United Way supported area daycare centers, retirement communities and at Eastern Mennonite High School, where they will help prepare the facility for the upcoming school year.
Each session culminates with a capstone performance. CUWP performances are at 4 and 7 p.m. July 20 and Aug. 10 at EMHS. While the performances are open to the public, CUWP asks that those attending the performances bring a school supply that will be donated to "Stuff the Bus," a program of the United Way, and to the Boys & Girls Club of Harrisonburg. Additionally, guests are encouraged to make financial donations. These donations, along with money raised by members of the Boys & Girls Club of Harrisonburg and representatives of Horizons Learning Foundation, will go to a scholarship fund to send an area teen to CUWP and to the Boys & Girls Club to support that organization's programming.
For more information about Camp Up with People and the program's capstone performances at EMHS, please contact Tim Lane, director, at (540) 742-4093. Additional information about CUWP is available at CampUpwithPeople.org.