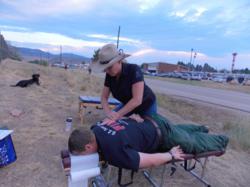 Denver, CO (PRWEB) July 03, 2012
Doctors of chiropractic in the Fort Collins and Colorado Springs areas have joined forces to provide chiropractic care to firefighters and other volunteers who are assisting with the state's many wildfires. The Colorado Chiropractic Association (CCA) is helping to lead this effort.
In Fort Collins, teams of four to five chiropractors have set-up just outside the firefighters' camp and provide care during shift changes in the evening. Colorado Chiropractic Association (CCA) Board Member Dr. David McClain of Loveland is a leader for this effort.
In Colorado Springs, over 40 doctors of chiropractic have volunteered for duty and they have treated hundreds of volunteers including firefighters, police officers, camp workers, and even a Kenyon rugby player. Dr. John Warner of Colorado Springs, a seasoned disaster specialist who treated many firefighters at the 2002 Hayman Fire, is leading the group of chiropractors that will be onsite at the firefighters' camp.
"These brave firefighters are under unimaginable stress while battling life threatening blazes – physically and emotionally," notes Vineta Campau, executive director for the CCA. "They get little sleep on uncomfortable cots and poorly made pillows."
Campau noted that chiropractic care stimulates the nervous system and allows the body to function at its optimum level. "Maintaining good spinal health allows the functions of the body to be in balance and allows the body's natural healing ability to flourish," she said.
For the firefighters, chiropractic treatments help with the stress and strain of their work now and assist with the improvement of any old injuries they may have. "Firefighters report less pain and more sleep after treatments," Campau says. "They are always thankful and excited about the chiropractors being there for them."
About the CCA
The Colorado Chiropractic Association has been the professional association of choice for Colorado doctors of chiropractic since 1917. Today the CCA represents the 1,800 doctors of chiropractic actively practicing in Colorado. For a referral to a doctor of chiropractic, please visit needchiro.com or contact the CCA at (303) 755-9011 or (800) 829-0339.
*Additional photos available upon request.