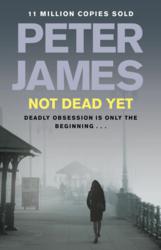 His Roy Grace detective novels have sold over 11 million copies worldwide, and are now translated into 34 languages.
New York, NY (PRWEB) July 04, 2012
Peter James, author of the best selling series of murder mystery crime novels featuring Detective Superintendent Roy Grace, will make a much-anticipated American appearance at ThrillerFest VII, the major international conference for suspense and thriller writers and readers taking place at the Grand Hyatt Hotel in New York City July 11-14, 2012. The author will present and host a number of special programs, including a unique workshop on research for crime novels.
Peter James (http://www.PeterJames.com) is one of the world's best selling crime and thriller novelists. His Roy Grace detective novels have sold over 11 million copies worldwide, and are now translated into 34 languages. In recent years, the publication of his sixth and seventh Roy Grace mysteries Dead Like You (2010) and Dead Man's Grip (2011) in the United States by Minotaur Books has seen his popularity stateside soar, resulting in widespread review coverage, thousands of new fans, being named to the "Must" list by Entertainment Weekly, and even a feature profile in The Wall Street Journal.
The mystery writer has developed a close working relationship with the Sussex, UK police over many years, spending an average of one day a week with them. His writing reveals a unique insight into the reality of modern day police work and forensic science. He has also carried out extensive research with police in Moscow, Munich, Paris, Melbourne, Sweden, New York and Romania, and regularly attends international police conferences to ensure he is at the cutting edge of investigative police work.
Budding authors and devoted Peter James fans will have the chance to meet the author at numerous presentations and special programs taking place during Thrillerfest VII. First, at CraftFest, a Thrillerfest workshop for emerging writers looking to hone their skills, the author will present "Fiction or Fact: How Important is Research?". The program, which takes place July 11, will draw on Peter James' unique and extensive research efforts with local police departments, and will be followed by a book signing.
On Friday, July 13 he will also serve as panel master for the topic "Does Evil Exist?", featuring panelists Al Giannini, Alma Katsu, Raymond Khoury, John Lescroart and T. Jefferson Parker. Finally, on Saturday, July 14th, he will host The ThrillerMasters' Rountable, an interactive Q&Z with ITW Thrillermasters Sandra Brown, David Morrell and R.L. Stine. For details on the conference, visit http://www.ThrillerFest.com.
In addition to authoring 19 novels since 1988, Peter James is an established film producer and screenwriter, having produced numerous films, including The Merchant Of Venice, starring Al Pacino, Jeremy Irons and Joseph Fiennes. A film adaptation of Dead Simple, the first novel in the Roy Grace series is currently in development, with Peter overseeing all aspects, including the screenplay.
The crime novelist's eighth book in the Roy Grace series, Not Dead Yet, was released in hardcover in the UK in June, 2012 and immediately shot to Number 1 on UK bestseller lists. His most recent standalone novel Perfect People, which explores the issue of "designer babies", was also released in paperback in June 2012 and has garnered rave reviews and plans are underway to produce a film mini-series based on the book. Mystery fans seeking up-to-the-minute news about James' public appearances and book signings can find him on Facebook at http://www.facebook.com/peterjames.roygrace.