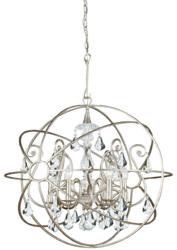 Because of our depth of experience at Crystorama, we are adept with design details, colors, proportions and materials, as seen in our Solaris Collection
Las Vegas, NV (PRWEB) July 03, 2012
Crystorama, one of the nation's leading providers of decorative lighting, will spotlight the latest innovations in lighting design during the Las Vegas Market, July 30 – Aug. 3, featuring extensive additions closely attuned to the latest consumer buying trends. Headlining the company's ever-expanding collections are several additions to its popular Solaris line.
"Consumers are more than ready to invest in stylish new additions for their homes given that we provide our retail partners with compelling offerings for a great variety of home décor," said Brad Kleinberg, president of Crystorama. "During the Las Vegas Market, we will feature one of our most extensive line additions with a goal of helping drive sales at retail."
Among the most exciting new offerings during the Las Vegas Market are several enhancements to Crystorama's popular Solaris Collection. Chandeliers have been incorporated within the spheres of Solaris for a distinctly elegant look. Other enhancements include three new finish colors, including white, the application of smoky gray-colored crystals and a larger version measuring 28 x 40 inches.
"Because of our depth of experience at Crystorama, we are adept with design details, colors, proportions and materials, as seen in our Solaris Collection," Kleinberg said. "This expertise allows us to innovate in creative ways that result in lighting that is fresh and appealing to homeowners and also responsive to the needs of the hospitality marketplace."
Another example of innovative styling from Crystorama during the Las Vegas Market is the Parson Collection, which features wrought iron styling in a glossy white finish, often referred to as the "little black dress" of interior design. The collection is highly versatile, equally at home in urban lofts, cozy cottages, mountain retreats and kid-filled suburban homes.
The Malibu Collection is certain to draw attention during market by lighting professionals who appreciate how precise attention to detail makes all the difference in winning design at retail. The Malibu Collection – often described as "country chic" – is a perfect illustration of how Crystorama artistically drapes crystals and applies colors and materials to create a work of illumination art.
Also illustrating leading edge use of materials is the Garland Collection, which is inspired by the fashion industry where the mixing of metals is all the rage. By laying silver over gold, Crystorama has created a collection that is the ideal marriage of antique and contemporary, making this collection versatile for a variety of decors.
Reinterpreting the classics for today's consumer is a core strength of Crystorama that comes to life in the Kendall Collection. Inspired by empire-style chandeliers, the Kendall Collection erases some of the formality of empire lighting by deconstructing the traditional design. In stringing oval beads for the Kendall Collection, the draping of the strand is accentuated, creating a less formal and more contemporary shape.
Just as consumer tastes evolve, so do the lighting collections from Crystorama. This commitment to tasteful change is evident in the Metro II Collection, which has been updated with cleaner lines and a sleeker finish with fewer crystals. While some of the details have been refined, Metro II retains the richness and elegance of a classically styled chandelier that is also available in a sconce.
Color is becoming an increasingly important story in the world of lighting as evidenced by the Harper Collection, a line of glass chandeliers that appeal to homeowners who appreciate how a light fixture can make a style statement lit or unlit. Originally offered in the color cognac, Crystorama has expanded the offering for the Harper Collection by adding ice blue, which has been requested by customers who want a modern look that still falls within a neutral range for a variety of settings.
Rounding out the story for the Las Vegas Market are Lola, Josie and Broche, again illustrating a diverse range from Crystorama. The Lola Collection is the perfect little girl's room lighting, highlighted with pink flowers and adorned with sparkling crystal jewels. The Josie Collection is inspired by the beauty of nature with a floral motif that brings out the pallet of fall colors. Broche is a jewelry-like creation that invites interpretation by homeowners, from sun bursts to sun flowers, available for both ceiling and sconce mountings.
"We are often asked what is the trend in lighting today," Kleinberg said. "The answer is there is not one trend but many different trends, ranging from mixed media to unexpected applications of crystals and beads. Visitors to our showroom during the Las Vegas Market will see all of these trends and more as we stay closely attuned to ever changing consumer tastes."
The Crystorama showroom is in Building B, Suite 458, in Las Vegas. For more information, contact info(at)crystorama(dot)com.
About Crystorama
For more than 50 years, Crystorama has been a leader in the lighting industry, recognized for distinctive lighting creations that are exceptional in quality, design and craftsmanship. Drawing upon its depth of knowledge and expertise and inspired by fashion and art, Crystorama continues to innovate with modern shapes, materials and colors.
Crystorama chandeliers are featured in such prestigious institutions as the U.S. Supreme Court, Constitution Hall and the Palace Theatre, as well as hotels, resorts and homes that range from urban lofts and country estates to suburban neighborhoods. The family owned business is headquartered in Westbury, N.Y. and serves retailers and contract distributors nationwide. On the web at http://www.crystorama.com.