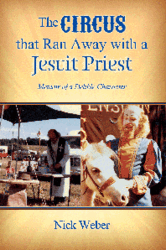 (The circus) was an exciting and inspirational idea that would have a 22-year run.
Milwaukee, WI (PRWEB) July 11, 2012
Trapeze rigging, flags, animals, jugglers and white-faced clowns accompanied Jesuit priest Nick Weber for more than two decades as he served his God, presenting morality tales and elegant circus acts across the country. His experiences with the Royal Lichtenstein Circus, an official ministry of the California Province of the Society of Jesus, provide inspiration in this unforgettable new memoir that reveals how theater and priesthood can intersect, describing both daily life as a circus performer on the road and Nick's personal journey of faith.
In "The Circus that Ran Away with a Jesuit Priest," Nick describes how he came to have such an unforgettable career. Father Bob introduces Nick and his best friend Doug to sleight-of-hand, and Nick gets to know Jesuit priests during his time at Bellarmine College Preparatory in San Jose, as well as perfecting his magic and patter. After time spent in discernment, Nick opts to use his Jesuit ministry in theater and asks to be reassigned to work full-time directing the Council Players. As Nick describes, the group, committed to combining morality tales with circus acts, dubs itself with "a grand-sounding title that would contrast with and mock the show's tiny scale, lending a tongue-in-cheek atmosphere." That name is the Royal Lichtenstein Quarter-Ring Sidewalk Circus. It was an exciting and inspirational idea that would have a 22-year run.
Author Nick Weber, born in Yuba City, Calif., was drawn to magic and circus skills from an early age, performing in Jesuit Catholic prep school theater before joining the Society of Jesus. He trained for 13 years before being ordained a Jesuit priest in 1970. He earned a bachelor's degree in philosophy from Gonzaga University and completed a master's degree in sacred theology from Santa Clara University and another master's degree in drama at San Francisco State College. He taught and directed dramatic and musical theater shows at St. Ignatius College Preparatory in San Francisco and Brophy College Preparatory in Phoenix before performing in the circus. Now a retired layman, he writes and coaches retirees in the program Shakespeare, Just for Fun!
For additional information, please visit http://www.weberwords.com.
The Circus that Ran Away with a Jesuit Priest: Memoir of a Delible Character
Nick Weber
Dog Ear Publishing
ISBN: 978-1-4575-0978-0 268 pages $18.00 US
Available at Ingram, Amazon.com, Barnes & Noble and fine bookstores everywhere.
About Dog Ear Publishing, LLC
Dog Ear Publishing offers completely customized self-publishing services for independent authors. We provide cost-effective, fast, and highly profitable services to publish and distribute independently published books. Our book publishing and distribution services reach worldwide. Dog Ear authors retain all rights and complete creative control throughout the entire self-publishing process. Self-publishing services are available globally at http://www.dogearpublishing.net and from our offices in Indianapolis.
Dog Ear Publishing – self-publishing that actually makes sense.