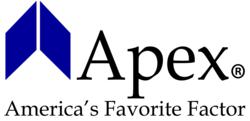 Apexers support JA by volunteering in the classroom and with monetary donations raised for the annual JA bowlathon through employee organized fundraising events.
Fort Worth, TX (PRWEB) July 03, 2012
Apex Capital contributes to its community by encouraging personnel to work with nonprofit and charitable organizations such as Junior Achievement (JA). Apexers support JA by volunteering in the classroom and with monetary donations raised for the annual JA bowl-a-thon through employee organized fundraising events. The Chisholm Trail Chapter of Junior Achievement has been a beneficiary of Apex employees' efforts for many years. Since 2007, Apex and Apex employees have contributed in excess of $100,000 to Junior Achievement by sponsoring fundraisers in preparation for JA's annual bowl-a-thon.
Fundraising activities for the upcoming JA bowl-a-thon teed off last Friday, June 22 at Hawks Creek Golf Club with the Third Annual Apex Capital Cup Golf Tournament. Ten teams played a nine-hole scramble in high Texas temperatures to raise money for the cause. A Calcutta was organized pregame and mulligans were sold to players to make this event a great success. The winning team, Hack Attack, very generously donated their winnings back to JA.
Junior Achievement is an international nonprofit that engages young people in planning for their economic success. Volunteers use interactive learning programs to educate students in K-12 about college preparation, entrepreneurship and financial literacy. The goal of JA is to prepare and inspire children to reach their potential for success in a global economy. According to JA's website "Junior Achievement impacts 4 million U.S. students in more than 176,000 classrooms. With the help of 178,000 volunteers, JA students develop the skills they need to experience the realities and opportunities of work and entrepreneurship in the 21st-century global marketplace."
Apex supports and encourages employees' involvement in the classroom each semester. Spring 2012, seven employees volunteered in local classrooms to educate students from K-12 about higher education and employment in the global marketplace. Every year Apex staff's involvement in the class room and commitment to raising money for Junior Achievement increases.
###
ABOUT APEX CAPITAL
For over sixteen years, Apex Capital, based in Fort Worth, Texas, has been a leader in providing freight bill factoring services for the trucking industry. Over the years, our company vision has remained the same: to be known for the legendary service we provide, the value we create, and the flawless execution we deliver. We want to provide more than just cash for our clients. To us, it's about the service and most importantly the relationship. Apex is different and it's our people that make us different. We value honesty and integrity as much as the freight bills we buy. That's one of the many reasons we've been voted as America's Favorite Factor and have been one of the top companies to work for in Texas for 5 years. For more information call 800.511.6022 or visit http://www.apexcapitalcorp.com.