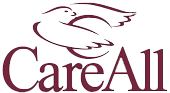 The new design centers everything into one place - our blog, social media, videos - they can all be accessed from the same location.
(PRWEB) July 03, 2012
In an effort to provide individuals in need with better access to all of their valuable in-home care services in one place, CareAll has joined with Nashville web design and development company Horton Group to redesign their new website. The new website will tie together all of their services and online resources into one easily accessible location. The website includes a simple design with open navigation and highlights various resources for those searching for more in-depth information over CareAll's medical and non-medical home care services.
"We are really excited about the new website and all of the improved functionality that has been built into it," stated CareAll Administrator Ben Fisher. "The new design centers everything into one place - our blog, social media, videos - they can all be accessed from the same location. Visitors can now find details on all of our locations, community events and health fairs from a modernized website with a new fresh design. We have also added an area where you can read recent in-home health care news."
The redesigned website is an upgrade from an older Flash version and was built using Drupal, an innovative open source content management system that allows CareAll staff to make changes to the website on the fly. In addition to checking the latest in-home health care news while browsing the website visitors can also link to CareAll's social media pages and read a variety of testimonials from real-life patients.
In addition to providing access to a wealth of knowledge over all of CareAll's services the website includes a careers section for those seeking employment in home health care. "One of our top priorities is making sure we can provide people with the highest quality medical personnel that will motivate and assist them in their efforts to stay healthy in their homes as long as possible," says Fisher. "Our employment section is the best way for us to connect with those skilled professionals who share our goal of providing in-home patients with high-quality care."
CareAll is dedicated to providing access to skilled medical and special care professionals for individuals who are restricted to their homes. This can be a common occurrence in the elderly or those who do not have the means to travel to a hospital or medical facility. CareAll provides valued medical and non-medical services for those who find themselves in situations where they are unable to leave home such as: physical therapy, companion care and nursing.
For more information on services and locations contact CareAll toll free at 888-401-2273.