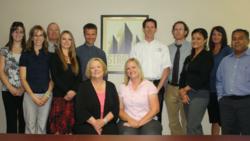 Each day brings new challenges and new successes, and most days we feel like we're making great strides towards a more secure financial future for us, our staff and our franchisees.
Salt Lake City, UT (PRWEB) July 09, 2012
Putting everything on the line was not just Shauna and Ed Sharpsteen's investment for their family, it was an investment into a dream of business ownership. As Stratus Building Solutions Master Franchise Owners, along with their daughter and son-in-law Emily and Jared Thomas, they have met the goals they set for themselves. In their third year open as a franchising business who services professional buildings with green facility services, they operate at 5258 South Pinemont Drive, Suite B-280 in Salt Lake City, Utah and are available at 801-266-2200.
Coming into the industry with little experience was initially thought to be a challenge, but ended up to actually be a benefit. It allowed them to adhere to the system, which is how they have produced such striking results. As co-founder of Stratus of Salt Lake City, Jared Thomas, shares, "We feel our success has come from approaching our business as though we knew nothing. We follow the Stratus system and depend on our corporate contacts and colleagues to teach us what we need to know."
"We all came to the table with a wide range of capabilities, from sales, education, manufacturing, and banking – none of which had anything to do with Commercial Janitorial or Franchising," explains Emily Thomas. "However, building on that core with Stratus' proven processes and procedures, a dedicated staff and a growing group of incredible franchisees on their team, they have flourished."
"It's really great to be able to see franchisees make their dreams a reality. We wouldn't be able to do this without the incredible system that Stratus has put together. Their years of experience and success in the industry have translated to a successful business for us and our franchisees," informs Shauna Sharpsteen. "Each day brings new challenges and new successes, and most days we feel like we're making great strides towards a more secure financial future for us, our staff and our franchisees."
The entire team shares the Stratus vision when it comes to franchising: Your Success is Our Only Business. They strive to provide an honest opportunity based on trust, honesty and hard work. "It helps if they have experience in the cleaning industry, but that's not as important as their willingness to learn the Stratus system and follow it, and the desire to have a successful business where they can demonstrate pride of ownership," informs Thomas. "We work very closely with the franchisees. We want them to know that our entire team is in their back pocket, and that we're here to assist in any way we can."
Sharpsteen was surprised how the human relations aspect of the business affected her. The stories of where people have come from and the success they have found as a Unit Franchisee of Stratus have touched her heart. "It's not the size of the plan they purchased. The higher performers have all of the above qualities plus the ability to take responsibility and make changes as necessary." Providing an honest opportunity for success is easier with a national brand, providing them more offerings for their Unit Franchisees. "Our proprietary products help keep prices down for franchisees, while maintaining consistent quality," says Thomas with enthusiasm.
The Unit Franchisees Sharpsteen speaks so highly of service regional commercial properties using the Stratus procedures and supplied Stratus Green Clean cleaning solutions. Thorough training is included as well as lots of practical education in the field. The Stratus of Salt Lake City office in turn handles locating, bidding and billing on behalf of the franchise owner, but offers additional training for those looking to secure their own accounts. The proprietary products, like the Stratus Private Label HEPA Filtration Backpack Vacuum and Stratus Miracle Pad, are available exclusively to Stratus Franchise Owners and add another level of quality to the Stratus service.
Stratus Building Solutions is currently the #1 Commercial Cleaning Franchise and #1 Fastest Growing Franchise as awarded by Entrepreneur magazine in the 2012 Franchise 500. Also a member of the Inc. 500, the Top Military Friendly Franchise (G. I. Jobs), and is an active member of the International Franchise Association. Stratus began franchising in 2006 and is headquartered at 1976 Innerbelt Business Center Drive in St. Louis, MO.