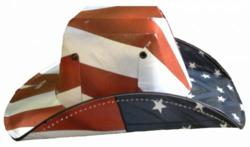 Elma, New York (PRWEB) July 03, 2012
The Made In America Store is the nation's go-to place that sells 100% American made, and the store brings new products constantly. This time the store introduces a cowboy hat with the American flag imprinted on the hat, making it the perfect hat for the summer season or Jam In The Valley 2012!
Beer Hats have been bringing a new twist on cowboy hats to the Made In America Store since 2011. The Beer Hats are cardboard hats made from the boxes the beer initially came from. Currently the Made In America Store offers the Beer Hats in brands such as Keystone, Miller Light, Miller High life, Coors, Coors Light Miller Genuine Draft and now, the American Flag Beer Hat.
Consumers, Fans of Beer, or people looking for a hat that shows your patriotism can find the hats by clicking here!
The traditional Beer Hats sell at $30 a hat, whereas the American Flag Beer Hats only go for $25.
The Made In America Store and the Beer Hat company actually have a unique relationship, one that shoes true pride in what the store's meaning is. The Made In America Store will only sell products that are 100% made in the USA. When the Made In America Store first approached the Beer Hat company, there were a few parts to the beer hat that were not fully USA made. Working together with the Made In America Store, the Beer Hat company was able to change seven different components to make their products 100% USA made.
The Beer Hat company is licensed with all the breweries for which they carry brands. Pete came up with the idea at a country festival in Ohio in 2002. Pete found some bar patron amidst 200,000 people with an empty beer case on his head. Pete returned to the campsite and played with some beer cases, in which he had quite a few for some reason until he fashioned something that looked a bit like a cowboy hat. When Pete got home, he started playing with the idea and came up with something fun to wear while he was bartending. The original ones were made out of used cases, as Pete believed in recycling and dumpster diving for cardboard boxes. Pete and his team used staples and duct tape as part of the assembly.
The Made In America Store is located at 900 Maple Road in Elma, New York and is committed to selling 100% American manufactured products. You can visit http://www.MadeInAmericaStore.com for more information or shop our catalog of over 3,500 products from over 290 vendors that are devoted to producing USA made products. All US military personnel, both active duty and veterans, receive a discount every day. Consumers can also keep up to date news articles, events, photos and contests with Facebook, Twitter, Google+, Pinterest and Tumblr!