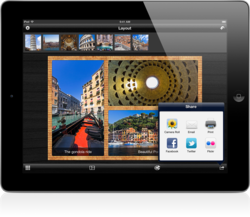 One of the most common requests by users of our Halftone App has been the ability to arrange multiple photos on a single page
Sammamish, WA (PRWEB) July 05, 2012
Juicy Bits, the makers of 5-star app Halftone, today announced its latest app, Layout, is now available on the App Store for iPad. Layout uses touch to split frames into sections and populate them with images from the photo library, Facebook, Instagram and Flickr. Photos are enhanced with built-in filters and effects, captions can be added to tell a story, and borders are styled using 100 built-in patterns. Layout supports sharing via e-mail, Facebook, Twitter, and Flickr, and projects can be stored in iCloud, making them easy to open on multiple iOS devices.
"One of the most common requests by users of our Halftone App has been the ability to arrange multiple photos on a single page," says Mike Swanson, Founder of Juicy Bits. "After exploring many touch-first methods that take full advantage of iOS, we ended up creating an app that is incredibly useful on its own. We hope that Layout makes it quick and easy for customers to create photo arrangements that they're proud to share with their family and friends."
Layout introduces a unique radial menu that reduces finger travel distance when selecting commands. Because its center button reflects the prior selection, a quick double-tap can be used to repeat commands.
Other features

iCloud support for sharing documents and settings with other iOS devices
Ability to open photos and captions directly from Facebook, Flickr, and Instagram
Automatic face detection for quick framing of individual faces and groups
Customizable aspect ratios
Templates that can be modified and saved for later use
Undo and redo
Snap points for precise border alignment
Customizable captions that can be positioned and formatted with built-in fonts
Photo editing tools from Aviary that include filters, effects, automatic enhancements, cropping, rotation, brightness, contrast, saturation, sharpness, and more
100 included border and background patterns
Direct sharing via e-mail, Facebook, Twitter, and Flickr
Wireless support for AirPrint-enabled printers
Interactive tutorial
Pricing and Availability:
The Layout App is available for $2.99 from the App Store on iPad 2 or later.
Founded in 2009, Juicy Bits is a small company that produces unique, freshly squeezed software for mobile devices. Their first release, 3D Camera, earned 4½ mice (out of 5) from Macworld and is frequently among the top photography apps worldwide. Their most recent app, Halftone, has over one million users and was named by Apple as one of the best photo apps as part of App Store Rewind 2011.