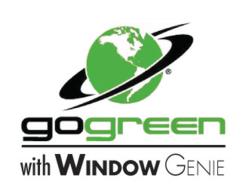 Genie Approved tips to help you save money this record breaking summer!
Cincinnati, OH (PRWEB) July 03, 2012
This Independence Day declare freedom from high utility bills! There are numerous ways to cut back on energy costs, but it doesn't always have to involve turning the AC off and turning the house into a sauna.Window Genie offers tips on how to beat the heat.
Fast & Free: No matter what the budget is, there are always ways to save. Check out Window Genie's best free tips for going green this summer.
Knowledge is power:

Understanding how electricity bills are calculated, and what "peak demand" means.
If there is a significant increase this month as compared to last month, pick up the phone and call the gas/electric company! They will explain their process and make their method of meter reading more clear.

The peak demand period changes by both area and season. During summer months, the peak demand period can be anywhere between 10AM to 8PM.
Some states are now deregulated, so there are options to choose from for energy providers. Most people don't know that with deregulation, they NOW have a choice in where to get their power.
Be smart with appliances:

A/C unit: It is recommended to set the thermostat between 78-80 degrees. Studies have shown that doing that saves 1-3 percent energy consumption for every degree above 72.
Use new Electronic thermostats: For under $100, these units can be programmed to change temperature while the homeowner is at work, or in bed. This way the homeowner can set their home's temperature around their schedule.
Are the air filters clean? They can easily become full every 3 months.
Turn on Ceiling fans: Air circulation increases cooling efficiency.
Gourmet microwaving 101: A microwave can be up to 2/3 more energy efficient than a stove. ESPECIALLY GAS STOVES.
Run the dishwasher only when it's full and air dry all dishes.
Pool maintenance: change the pool cleaning cycle to run during off peak hours
Turn off lights when not in use
Ventilate when it's cool outside. Whenever possible, ventilate and enjoy the fresh air!
NOT FREE, BUT WORTH IT. Drop a few dollars to save money, energy and aggravation!
Tune up the A/C unit: if the AC unit isn't charged correctly it will use significantly more energy. Have a licensed and insured technician inspect the unit to ensure it is running properly.
Install a whole house fan: Fantastic way to ventilate an entire home. Pulls hot air out of the home while circulating cool comfortable air inside
Increase ceiling insulation: Reduce bills from 5-25%
Seal ducts: Leaking ducts can account for as much as a 25% decrease in energy efficiency
Fortify your windows:
The International Window Film Association (IWFA) has stated that the application of window film can be the most efficient way to cut down on heat entering any home.
In fact the application of window film can actually make you money! With energy savings of up to 30% window film will not only pay for itself with energy savings but also lasts forever.
Benefits of window film application:
Reduces solar energy by up to 85%
Glare reduction
Fading and UV rejection 99.9%
Enhanced view
Added privacy / security
For more information, give Window Genie a call for a free consultation and no hassle in-home estimate. Toll free 800-700-0022
Window Genie is the national Cincinnati based franchisor of home services known to "Clean Windows and a Whole Lot More!" These services include window cleaning, window tinting and pressure washing.
Happy Independence Day!