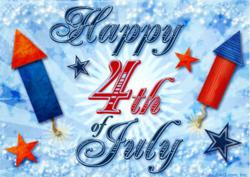 Cleveland, OH (PRWEB) July 02, 2012
Celebrating America's independence is a proud tradition never done on a small scale. Lavish hometown parades, mouth-watering picnics, and fireworks extravaganzas that fill the sky all mark this festive day from beginning to end with patriotic spirit. Capture that spirit and share it among family and friends by sending each other 4th of July eCards available at BlueMountain.com from the American Greetings Corporation.
The colorful collection of exciting eCards celebrates America's independence in a variety of fun-filled ways. Traditional 4th of July eCards pay tribute with stars and stripes as well as glorious fireworks displays accompanied by a host of rousing patriotic songs. Interactive eCards make 4th of July clickable as America's birth is brought to life before recipients' eyes. Cute and funny designs let pint-size patriots celebrate the day with a cartoon character that will spread smiles and laughter from sea to shining sea. Dozens of designs are available to customize with stylized messaging, making 4th of July eCards a treat to email or post among family and friends' Facebook pages.
Know someone born on the 4th of July? Sending these eCards makes a great addition to any gifts they'll receive and will brighten their day by reminding the recipient they share a birthday with a proud nation.
To view the entire collection of 4th of July eCards and explore customization options for each, visit http://www.bluemountain.com.
About American Greetings Corporation
For more than 100 years, American Greetings Corporation (NYSE: AM) has been a creator and manufacturer of innovative social expression products that assist consumers in enhancing their relationships to create happiness, laughter and love. The Company's major greeting card lines are American Greetings, Carlton Cards, Gibson, Recycled Paper Greetings and Papyrus, and other paper product offerings include DesignWare party goods and American Greetings and Plus Mark gift-wrap and boxed cards. American Greetings also has one of the largest collections of greetings on the Web, including greeting cards available at Cardstore.com and electronic greeting cards available at AmericanGreetings.com. In addition to its product lines, American Greetings also creates and licenses popular character brands through the American Greetings Properties group. Headquartered in Cleveland, Ohio, American Greetings generates annual revenue of approximately $1.7 billion, and its products can be found in retail outlets worldwide. For more information on the Company, visit http://corporate.americangreetings.com.