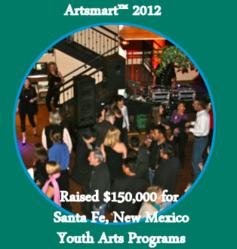 Santa Fe, NM (PRWEB) July 02, 2012
ARTsmart™ is thrilled to announce its 2012 giving. Through 2012, the organization has distributed over $1,000,000 to ARTsmart™ projects, public school programs, art related organizations and endowment funds. The event and the organization are featured on Santa Fe visitor guide SantaFe.com.
In 2012, $151,697 will be distributed as follows:

$21,942 to the Santa Fe Public School Art Department for elementary and middle school art supplies and resources for students.
$36,750 to a Visiting Artist Program for Santa Fe Public Schools, both elementary and middle, administered by ARTsmart.
$40,000 to ARTsmart's two endowments: $30,000 to the ARTsmart General Fund and the $10,000 to the ARTsmart Scholarship Fund at the Santa Fe Community Foundation.
$7,290 distributed to Santa Fe Public Schools elementary school art teachers for supplies and programs.
$14,500 to ARTsmart art projects: K-12 special projects with Santa Fe Public Schools including a plate project, metal sculptures, glass project, photography project and an honorary artist project. Also, projects with New Mexico School for the Arts.
$10,000 for art programs provided by Fine Art for Children and Teens, including a program with the Indian School and a high school portfolio preparation program.
$10,300 to the ARTsmart Scholarship, Awards of $5,000 and $1,500 distributed to two high school seniors pursuing art in higher education and $1,500 each to the previous scholarship recipients. Also two "books and supplies" awards of $500 and $300 awarded to high school seniors pursuing art.
$16,705 returned to the high school students and schools with whom we share the proceeds from the 2012 auction sales of their art work.
About ArtSmart™:
The primary purpose of ArtSmart™, which was initiated in 1993 by dedicated members of the Santa Fe Gallery Association, is to provide funding for Santa Fe youth art including donations for art projects, art resources, and scholarships. The ArtFeast™ annual fund raising event put on by ArtSmart™ brings together more than 200 businesses in Santa Fe including many art galleries, restaurants, caterers, hotels and international wineries with the goal of raising monies to support Santa Fe youth art programs.
ARTSmart ™
102 E. Water Street
Santa Fe, NM 87501
info(at)artfeast(dot)com
505.603.4643
ABOUT Hutton Broadcasting/SantaFe.com:
Hutton Broadcasting LLC is a family owned Santa Fe business committed to serving and protecting the interests of our employees, customers, listeners and the community of Santa Fe and the surrounding areas
Contact Information:
Scott Hutton
SantaFe.com / Hutton Broadcasting
http://www.santafe.com
(505) 471-1067 (Media inquiries only, please)