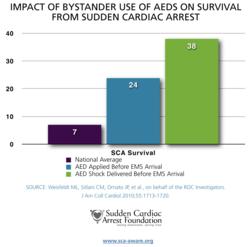 Sudden cardiac arrest is a treatable condition, but survival depends on quick action by bystanders.
Pittsburgh, PA (PRWEB) July 02, 2012
This Independence Day, a small, but growing community will be celebrating with a renewed sense of appreciation for "life, liberty, and the pursuit of happiness." They are the nation's survivors of sudden cardiac arrest, people who defied the odds and were granted a second chance, thanks in large part to quick action by bystanders.
The Sudden Cardiac Arrest Foundation invites survivors to show their appreciation by nominating their rescuers for the People Saving People™ award, which honors 'ordinary' people with extraordinary spirits whose actions made the difference between life and death for victims of sudden cardiac arrest.
"Sudden cardiac arrest is a treatable condition, but survival depends on quick action by bystanders." said Mary Newman, MS, Sudden Cardiac Arrest Foundation president. "Victims need immediate CPR and defibrillation. Even the most efficient EMS providers cannot be at the victim's side as quickly as those who witness the life-threatening emergency."
Nominees for the People Saving People™ award should be individuals who helped save a life by calling 9-1-1, providing CPR or chest compressions, and/ or using an automated external defibrillator to restore a normal heartbeat.
To nominate someone for the People Saving People™ award, click here. The deadline for submissions is July 13.
This year's award will be presented at the Citizen CPR Foundation's Emergency Cardiovascular Care Update in Orlando, September 11-15, 2012. The first place winner will receive free conference admission and an AED that may be donated to a school, a place of worship or another location of the winner's choice.
Sudden cardiac arrest is a leading cause of death in the U.S. affecting about 1,000 people a day. On average, only seven percent of victims survive to hospital discharge. But if bystanders recognize the emergency and take action, survival rates increase dramatically, especially when CPR is provided and public access defibrillators are used before emergency medical services responders arrive at the scene. Research by the Resuscitation Outcomes Consortium, a North American multi-center clinical trial network, shows that when bystanders apply AED pads to the victim's chest before EMS arrival, survival rates increase to 24 percent. When bystanders apply AED pads and a shock is delivered before EMS arrival, survival rates climb to 38 percent.
About the Sudden Cardiac Arrest Foundation
The Sudden Cardiac Arrest Foundation is a national community benefit 501(c)(3) organization whose mission is to raise awareness and save lives threatened by sudden cardiac arrest. The Foundation is the home of the SCA Survivor Network, an online community that provides peer support and opportunities for survivors to "pay it forward" and help save other lives. The Foundation maintains a national database of survivors and experts available to speak with the media.
About Sudden Cardiac Arrest
Sudden cardiac arrest (SCA) is a sudden, unexpected pulseless condition. It's different from a heart attack. While heart attack is described as a "plumbing problem," SCA is more of an "electrical problem" that prevents the heart from functioning effectively. When SCA occurs, the heart stops beating altogether. As a result, blood no longer is pumped throughout the body, including the brain. The person suddenly passes out, loses consciousness, and appears lifeless—except for abnormal "gasping" which may last for several minutes. Occasionally, SCA victims will experience 10-20 seconds of seizure activity (shaking of the arms and legs) at the onset of the event as the brain stops receiving blood and oxygen from the heart. The SCA victim needs immediate help. If nothing is done, he or she will die within minutes.