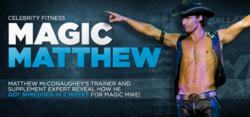 "Matthew is straight Texas - he's a get-after-it guy. Literally. For his workouts, he'd get in, get after it and get out... He'll get up from a set and go, 'Whoo-hoooh!'" explains Matthew's trainer Gunnar Peterson.
Boise, ID (PRWEB) July 03, 2012
With over $39 million in sales at the box office this weekend, people stormed movie theatres to check out the new summer hit, Magic Mike. The film may have gotten mixed reviews, but one thing everyone could agree on was Matthew McConaughey's incredible body. McConaughey got absolutely shredded for his role as Dallas, the patriarch of the male revue. Being on stage next to Channing Tatum, Alex Pettyfer and True Blood's Joe Manganiello, was the extra push he needed to put his training into overdrive. Bodybuilding.com met with McConaughey's trainer Gunnar Peterson, and nutritionist, Chris Lockwood, to show fans what it takes to carve a celebrity six-pack.
Gunnar Peterson has helped Matthew McConaughey train since Sahara in 2005. For his Magic Mike spot, McConaughey contacted Peterson to polish his physique and reached out to Chris Lockwood to dial in his nutrition. Matthew wanted to look the part. He wanted to look like a guy who had run a male revue for years and had made it his life and livelihood. He wanted to become the old vet who could still hold his own with the young bucks.
Peterson and Lockwood shared some of the secrets behind McConaughey's show-stopping physique. With only two weeks left until shooting, Matthew had a decent level of fitness but wanted to drop some body fat. He wasn't looking to gain any muscle size, so it became all about conditioning and maintaining the lean mass he already had. He went through a tough peaking program, working out every day, twice per day, for two weeks.
"Matthew is straight Texas - he's a get-after-it guy. Literally. For his workouts, he'd get in, get after it and get out. He's a full gamer; he goes at anything. He'll get up from a set and go, 'Whoo-hoooh!'" explains trainer Gunnar Peterson.
In order to trim down his body fat, Peterson incorporated interval training into Matthew's routine by mixing up different types of cardio movements (e.g. jog five minutes on a treadmill, followed by one minute of jumping rope – repeated 9 times). To further develop his etched out abs, Peterson went beyond the everyday crunches and focused on multiple exercises based on leg raises and planks.
As far as nutrition goes, Matthew was already pretty on point, so all he needed were a few tweaks implemented by Chris Lockwood. Lockwood explained that he upped Matthew's meal frequency and total protein intake by adding three specially formulated protein shakes per day. He also reduced McConaughey's carb intake as the day progressed, essentially cutting off starchy carbs after mid-day.
Three days prior to shooting clothes-less scenes, Chris had Matthew reduce his water and sodium intake. He also added a low-glycemic lean mass gainer into his breakfast for a bit of extra carbs for muscle fullness. On the actual day of shooting, Lockwood had Matthew eat a small breakfast and sip on protein shakes during the day. About 30 minutes prior to a take, he'd have him drink a low glycemic lean mass gainer and suggested he sip on red wine to further fill-out his muscle and bring out his vascularity.
This nutrition, combined with a solid pump-up exercise regimen prior to and during takes, helped to accentuate Matthew's shoulders, chest, and arms, and made his waist look even leaner. Matthew prepared for his shoot dates in much the same way a bodybuilder or fitness competitor would prepare for competition day.
For full details on Matthew McConaughey's training, nutrition and supplementation for Magic Mike, go to Bodybuilding.com.
Bodybuilding.com offers more than 8,000 health & fitness supplements and accessories to help more than 13 million people every month achieve their health, fitness and appearance goals, as well as over 35,000 pages of FREE information, including more than 20,000 articles and videos, expert online trainers, and new content added daily.