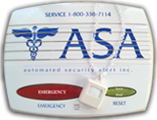 Pittsburgh, PA (PRWEB) July 03, 2012
The Pittsburgh-based Automated Security Alert has a long standing track record of keeping individuals safe in their own homes, and the company is now offering their same matchless service to large scale campuses and buildings that house seniors with the ASAPro Building Solution. Residents can wear a necklace or wristband with an emergency button and when the senior presses the button, Automated Security Alert will assess the situation and contact a caregiver, family member, or emergency services. Besides professional installation, the ASAPro Building Solution includes free service, maintenance, free monthly testing, and free reporting and notification to family members, care givers, and medical professionals.
Jason Seyler, the company's Director of Life Safety said, "It's the service and support that makes the difference between a good solution and a great solution. We have been told many times Automated Security Alert's solutions are the best due to our ongoing support." Seyler further stated the system can be customized to allow the signal to be sent to a nursing station in-house or route directly to Automated Security Alert, and can even be programmed to change where the signal routes to at different hours of the day, depending on the needs of the facility.
Automated Security Alert, Inc., has provided freedom and security since 1988 to over 60,000 consumers through the use of technology and services that enable seniors, physically-challenged persons and recovering patients to maintain an independent lifestyle in their homes. ASA's creative, dependable solutions include medical alert systems(personal emergency response systems); fall detection systems; telehealth and medication management systems, including electronic pill dispensers and monitored medication dispensers.
For further information, please contact Matthew Couillard at 1.800.338.7114.