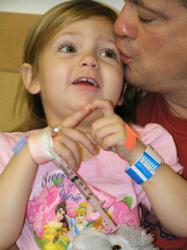 People don't know that kids get arthritis.
Long Beach, CA (PRWEB) July 03, 2012
July signifies the height of summer, but the Arthritis National Research Foundation wants to remind everyone that it also represents Juvenile Arthritis Awareness Month. While most Americans will be focused on barbeques, picnics, the beach and the sun for the 4th of July, some 300,000 children will continue their battle with a life altering disease, juvenile arthritis.
That's right, kids get arthritis, too. Most Americans do not know that 300,000 U.S. children suffer from arthritis. This autoimmune disease is particularly dangerous in children because their immune systems are not yet mature. The Arthritis National Research Foundation is working to make a difference with cutting-edge arthritis research.
Most people think of old people having arthritis. An estimated 50 million people in the U.S. alone suffer from some form of arthritis, making it the leading cause of disability and missed time from work. In the case of young sufferers, it means missed time from school, play and childhood pleasures that other children take for granted. It means time in the hospital for intravenous treatments. The juvenile forms of arthritis can seriously affect the eyes (a condition called uveitis) and other organ systems. Sadly, juvenile arthritis (JA) does not always stop at age 18-21. Many suffer the symptoms of JA throughout adulthood.
"At the Arthritis National Research Foundation, we hear from hundreds of families who deal with juvenile arthritis every day," says board president, Kevin Donohue. "They know that raising awareness and supporting this critical arthritis research will be the key to helping alleviate the suffering of their loved one."
The Arthritis National Research Foundation is the charity that funds research to cure arthritis. To make a difference in the fight against juvenile arthritis, ANRF established a special grant to foster research in this area. "The Kelly Award for Juvenile Arthritis Research" is an annual grant given to the highest scoring scientist studying JA. Kelly, in The Kelly Award, is ANRF board member, Kelly Rouba, an inspirational writer and career advocate for people with disabilities who is passionate about finding a cure for juvenile arthritis research since she herself was diagnosed with juvenile rheumatoid arthritis at age 2.
"People don't know that kids get arthritis," says Rouba. "At the Arthritis National Research Foundation we are trying to change the perception that these diseases only afflict older people. Supporting this research has never been more critical."
Kelly and the kids with juvenile arthritis inspire everyone daily with their spirit and positive attitudes towards dealing with and conquering their disease. Visit http://www.curearthritis.org and you, too, will be inspired. Make a difference and make a donation today!