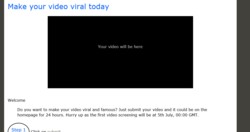 "..the casualness and the nature of the website create a unique atmosphere that leads to the curiosity, which drags users of the web just to see what the video is on the website today."
London, United Kingdom (PRWEB) July 05, 2012
When it comes to making a video famous by going viral around the web, it requires solid content and a well-established platform such as a lot of subscribers on your YouTube channel. However, a website just been launched using an alternative method to make videos viral.
The founders of the website, which are a group of students studying at University, believe it will be a massive hit because of the unique concept.
"A YouTube user's dream is to have their video with a lot of views and hits. However many of them fail to achieve this. Why? Simple answer, you don't have enough subscribers. Let's put it this way, if you are introduced to a lot of buyers and had a chance to sell any product, one way or another the product would sell because the buyers are available. The same concept applies here, the visitors are available"
The website's main focus is on the homepage. It allows users to submit a video link. Randomly a video will be chosen to be placed on the homepage for twenty four hours out of the submissions. Is the probability of the user's video being placed on the homepage high enough for it to go viral and famous? The students point out that with little effort and without creating a foundation is still possible for a video to go viral.
"Creating solid content, working on a video blog on a day to day basis, earning the subscribers then releasing a video would require a lot of time but this all can be done in a few clicks, the casualness and the nature of the website create a unique atmosphere that leads to the curiosity, which drags users of the web just to see what the video is on the website today."
Currently, HourFame allows any kind of video from a major video hosting website such as YouTube, Vimeo etc. It has guidelines like any other video website.
Certainly, using this website would make a user's video viral and famous if it is picked.
Visit the website at http://www.hourfame.com