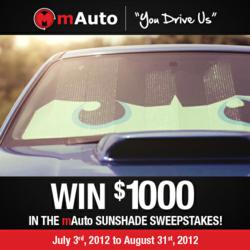 Since the April launch of our new Eyes Sunshades, clients have also started sending us pictures
Miami, FL (PRWEB) July 03, 2012
The summer just got hotter as thriving online car accessories retailer and manufacturer mAutoStore.com has announced that its Sunshade Sweepstakes will kick off July, 3, 2012 where one lucky winner will walk away with a cash prize of $1000 when the contest ends August 31, 2012.
The competition rules are simple and all participants have to do is submit one photo on the mAutoStore.com Facebook page facebook.com/mAutoStore of any of the three mAuto Eyes Car Sunshades on their car or vehicle and watch the votes come in from their friends, family and mAutoStore.com fans. The entry with the most votes wins the $1000 prize. It's so easy to take a picture these days on almost every device that anyone that enters could be the winner.
The contest is the brainchild CEO and Founder Lester Mapp, who expressed his reasoning and excitement about the start of the Sunshade Sweepstakes "We constantly receive compliments on our products and service from our clients. But since the April launch of our new Eyes Sunshades, clients have also started sending us pictures of their cars with our sunshades because they love them so much. So I thought why not encourage even more people to share their enthusiasm and creativity with us. We are really looking forward to everyone having lots of fun with this contest." He also confirmed that the Sweepstakes promo video has already been released on YouTube.
What started out as charming photo submissions from mAutoStore.com clients has turned into a cash reward for one lucky person as the company gears up for the contest for drivers, shutterbugs and car enthusiasts to get in on the action as participants point and shoot their way to a photo finish. With $1000 and full "bragging rights" at stake mAutoStore.com hopes the fans will be thrilled at the chance to win the cash prize.
mAuto Store is an online car accessories retailer and manufacturer based in Aventura, Florida. For more on the contest visit http://www.youtube.com/watch?v=NpmrVY_jRFA