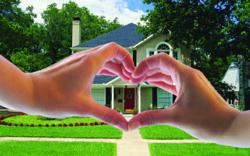 ...In general, most buyers see an extensively landscaped yard as a plus.
Cincinnati, Ohio (PRWEB) July 03, 2012
Landscaping is an important detail when selling a home. Especially during the warmer, "outdoor" season, pay close attention to the "outdoor rooms" — the front and back yards. Sibcy Cline Realtors suggests that the front yard should be the red carpet to one's front door and will help create curb appeal. The rear yard can also make a positive, first impression with attractive landscaping. Remember, buyers need to be impressed by the outside before they will look inside a home.
Questions to consider about current landscaping when selling a home:

Is the yard well maintained with trimmed shrubs and attractive flowers?
Have weeds been pulled and mulch added?
Is a nice seating area available outside?
Is the deck or patio in good shape?
Not all buyers will be avid gardeners and may be looking for low-maintenance landscaping, but in general, most buyers see an extensively landscaped yard as a plus. (Remember, just don't overdo it or buyers who do not want to spend hours in their yard may be turned off.)
Have a small yard? Don't worry – even small green spaces can look appealing and attractive. Think more in terms of container gardening if there is no space for landscaping or flowers.
Smaller, starter homes with nice landscaping create more visual appeal that hopefully turn into purchase offers. For higher-priced homes, there will be an expectation of quality landscaping from buyers.
Showcasing outdoor sitting and dining areas is a plus when selling. Outdoor rooms are desirable to buyers and add to the list of amenities that a home has to offer.
Some ideas when updating landscaping:

Planting perennials offer a future low-maintenance solution to gardening.
Fresh mulch always has curb appeal and provides contrast to green or colorful plants.
Add lights! Lighting along a driveway, highlighting the home's exterior or landscaping can create a beautiful aura to the home in the evening.
Pruning trees or bushes keeps the landscape looking fresh. Be sure to tailor back overgrown areas that block the front door or windows.
When adding shrubs, avoid "one of this" and "one of that" — masses of three or more look better and will smooth out the look of the landscaping.
Have a healthy lawn in the front.
Need inspiration for landscaping update endeavors? Look at homes already on the real estate market!
Sibcy Cline Realtors is a 75+ year real estate broker with 1,200 real estate agents servicing Cincinnati and Dayton, Ohio; Northern Kentucky; and Southeastern Indiana. The company is the largest area real estate broker and offers home-related services including real estate, mortgage, insurance, relocation and title. The Sibcy Cline Home Services division connects home owners home-maintenance professionals, including landscapers and grass-cutting services.