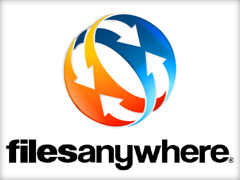 FilesAnywhere has grown organically since 1999 by treating each new customer as if they are our first customer.
BEDFORD, TEXAS (PRWEB) July 03, 2012
This Independence Day marks the beginning of FilesAnywhere's fourteenth year in business – making it the most experienced, reliable cloud storage service in the industry. CEO Tim Rice attributes the company's staying power and success to operating on a debt-free business model, putting the customer first and anticipating what customers need.
"Other popular cloud services and startups offer far less in features, and instead give away whatever they have for free to attract a crowd – the free model is simply not sustainable for professional users; it leads to weak customer service and overstretched resources, or heavy debt, and these companies realize it too late," says Rice.
Their founders may have the passion to raise millions for their startup and continued operations, but the 'fast-lane' approach does not allow them to support their growing user base with a continuously stable, scalable infrastructure, quality service and most importantly a sustainable business model. FilesAnywhere has grown organically since 1999 by treating each new customer as if they are our first customer."
FilesAnywhere's business approach speaks for itself. Not only did it survive the Dot Com Bubble Burst of 2000, which sent about 50 percent of Internet start-ups out of business entirely, its highly evolved set of features, enterprise security and outstanding customer support have grown long-standing relationships with enterprises such as GE, Thompson Reuters, Fox Networks, Intel, Johnson Controls, DuPont, Raytheon and the University of Washington.
FilesAnywhere even caught the attention of entrepreneur Mark Cuban, who made a private investment in the company in 2005 and became an owner through FilesAnywhere's recent merger of publically traded company, Immediatek (IMKI), setting the stage for the company's future growth.
FilesAnywhere is celebrating its 2012 anniversary with the release of an entirely redesigned User Interface. The sleek new web interface is available to all accounts, and includes new functionality such as HTML5 drag-and-drop capability, and eForms – a wizard tool that allows users to easily create, distribute and collect their own custom-built data entry forms to quickly gather information from an unlimited number of people.
Co-founder and CIO, Chetan Jaitly, devoted nearly two years of development to the interface changes in order to accommodate FilesAnywhere's hundreds of features developed over the past 13 years. This development has earned FilesAnywhere a nomination for the 2012 Tech Titan's Emerging Company Innovation Award .
As a thank you to the thousands of users that have been so crucial to its success, FilesAnywhere is offering a $20 discount to new and existing users that sign-up for, or upgrade to an annual plan from July 4 to July 20 using promo code JULY4FA. To view additional plans and pricing, or to request a personal demonstration of the enterprise solution, visit http://www.filesanywhere.com.
About FilesAnywhere:
Since 1999, FilesAnywhere has provided simple, mobile access to files, cloud backup, storage, collaboration, virtual data rooms, and branded file portals for both consumers and businesses. FilesAnywhere is a trademark of Officeware Corporation. Headquartered in the Dallas metroplex, Officeware Corporation is a wholly-owned subsidiary of Immediatek, Inc. (IMKI), a Mark Cuban Company. For support and information call 855-SYNC-NOW or visit filesanywhere.com.