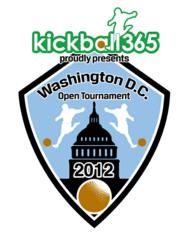 This year's tournament is being played on the brand new, beautiful fields at Long Bridge Park. These will be some of the finest fields we play on all year.
Washington, D.C. (PRWEB) July 05, 2012
The Circuit, the only national, professional tour of top-flight, competitive kickball tournaments, moves past the halfway point of its 2012 season and into Washington D.C. for the upcoming Kickball365 Open. The flagship event of The Circuit season, the Kickball365 Open is marking its fifth anniversary this year and will feature one of the largest tournament fields of the season. Teams from across the country will compete at the highest level for cash prizes and overall Circuit Cup points as The Circuit moves ever closer to its 2012 Circuit Cup Championship in New Orleans on November 11th, 2012.
"We've had a very interesting Circuit season so far, but D.C. is where teams really turn it up a notch," said Matthew Kemph, Founder/CEO of Kickball365. "This is one of our longest running tournaments, so there is a lot of history on the line with this title. It's also an attractive, central location for a lot of teams, so we get one of the widest fields we'll see all year. A few 2012 Circuit tourney winners are already signed up, including the New York Shower Hammers, who have won two tournaments and the Meatballs who have each won one earlier in the year. After them, there's a lot of really hungry teams gunning for their first tourney championship on the National Tour. I can't wait to see how this one plays out."
Games for the ninth event of The Circuit's 2012 National Tour will take place at the brand new Long Bridge Park on the north end of Crystal City in Arlington, Virginia. This park features three full-size athletic fields overlooking Washington, D.C., widely recognized as the birthplace of kickball as an adult recreational sport. The field will feature teams from across the country competing in a World Cup style tournament, with pool play games in the morning and single elimination in the afternoon. Teams will be competing for a cash prize, with cash prizes also awarded to the runners up.
After D.C., teams will go on to compete to earn official Circuit Cup points at events across the country. Those points earned will be used to determine the seeding for the true ultimate championship at the conclusion of the year, the Circuit Cup Championship presented by Complete Discovery Source (http://www.cdslegal.com). The Champion of the Circuit Cup will win $10,000 and the top sixteen (16) teams will also receive cash prizes. The full 2012 schedule can be found at http://www.ThisIsKickball.com.
"One of the best things about the Kickball365 Open is that we have a great pre- and post-tournament get-together for all players, friends and families," continued Kemph. "We've rented out an entire venue for all players to celebrate in. On top of that, this year's tournament is being played on the brand new, beautiful fields at Long Bridge Park. These will be some of the finest fields we play on all year."
A few team spots are still available for the Kickball365 Open. Think your team has what it takes to compete with the best? Visit The Kickball365 Open registration page to register now. Registration closes on July 6, 2012.
The Kickball365 Open is sponsored by CDS Legal, NextGame Nation, Starbucks, Brendan Walsh of Northwestern Mutual, DoubleTree of WasBailey's Sports Grille, Stix Food Truck, Bada Bing Food Truck, The Orange Cow Food Truck,and 5-Hour ENERGY.
Companies interested in sponsoring the tournament should visit the sponsors page for more information. The Circuit's Kickball Events were recently featured on ESPN, CNN, Good Morning America, Sports Illustrated, the TODAY Show, and Deadspin.com. Kickball365 will be increasing the sport's visibility with local media throughout the weekend of the Kickball365 Open.
For more information on The Circuit, visit http://www.ThisIsKickball.com
As always, for more information on Kickball365 visit:
http://www.kickball365.com
Follow us on Twitter.com/kickball365
Like us on Facebook.com/Kickball365
About Kickball365
Founded in 2010, Kickball365 enables people to make friends and have fun through local kickball leagues and one-of-a-kind tournament vacation experiences. We are the home for competitive kickball in America.
About The Circuit
Kickball365 produces The Circuit, the only national, professional tour of top-flight, competitive kickball tournaments. Held in 16 cities across the nation, these Circuit Events comprise The National Tour each year, in which registered teams compete for Circuit Points and prize money. Think your team can compete? To discover more and find a Circuit Event near you, visit http://www.thisiskickball.com. Find an interactive map of all National Tour Circuit events at http://www.kickball365.com/thecircuit/national-tour-map/ __National Tour Map__.
About Complete Discovery Source
Complete Discovery Source, Inc. (CDS) is an official sponsor of Kickball365 and The Circuit and provides eDiscovery technology solutions and services for litigation, investigations and other data-intensive disciplines. Headquartered in New York City, with offices in New Jersey and Washington DC, the company was founded in 2003 and has received numerous awards for its exemplary client services. As a full-service provider of e-discovery services, CDS merges proven technology with a team of experienced professionals to provide a best-of-breed suite of solutions. CDS has established itself as a trusted advisor to law firms, national and international corporate legal departments and government agencies by providing cost-certainty while maintaining accuracy and efficiency. For more information, contact Complete Discovery Source at cds(at)cdslegal(dot)com or visit http://www.cdslegal.com.
Media Contact:
Matthew Kemph
Founder/CEO
Kickball365, Inc.
contactus(at)kickball365(dot)com
http://www.kickball365.com