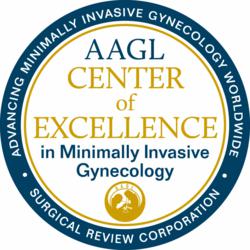 Cypress, CA (PRWEB) July 03, 2012
AAGL, the world's premiere professional society dedicated to gynecologic endoscopic surgery, announces the first two hospitals and nine surgeons to be named as Centers of Excellence in its new "COEMIG" program (Centers of Excellence in Minimally Invasive Gynecology), launched in partnership with the Surgical Review Corporation (SRC).
The hospitals are Inova Fair Oaks Hospital in Fairfax, VA and Syosset Hospital, Syosset, NY.
The surgeons are Stella Blosser, MD, Robert Castle, MD, Natalya Danilyants, MD, Felicia Donald, MD, Paul MacKoul, MD, Leonard Rosen, MD and Ray Wertheim, MD of Inova Fair Oaks Hospital; and Steven Palter, MD and Andre Saad, MD of Syosset Hospital.
A COEMIG designation means that both the hospitals and the surgeons have undergone a critical review process and have met standards developed by the AAGL and SRC to ensure the efficacy, safety and efficiency of their minimally invasive gynecology capabilities. Among the many qualifications considered are the experience of the surgical staff, the status of the hospital's technology and equipment, adherence to established clinical pathways for perioperative care, and the availability and competency of the support staff and surgical team members.
The COEMIG program was implemented to help expand women's awareness of and access to minimally invasive gynecological procedures, which are now available to treat the majority of pelvic health disorders. Minimally invasive procedures can preserve reproductive organs, minimize pain and scarring, and accelerate a return to daily living for millions of women diagnosed with common gynecological problems such as fibroids, endometriosis, stress urinary incontinence and pelvic organ prolapse. However, minimally invasive surgery requires specialized technologies and advanced surgical education and experience, which may not be uniform from medical center to medical center.
The COEMIG program will help standardize best surgical practices in minimally invasive gynecology across the country and make that information readily available to all stakeholders via the Internet.
Some two-thirds of women experience a pelvic health problem over the course of their lifetime, usually during their childbearing years. In the past, many conditions were treated by hysterectomy (removal of the uterus, sometimes along with the ovaries and fallopian tubes), which at 600,000 per year is second only to cesarean section as the most common surgery among U.S. women.
Despite the broadening availability of minimally invasive procedures, many women still undergo the trauma and extended healing period from an open abdominal incision for hysterectomy. Many others undergo hysterectomy needlessly because less invasive procedures have been developed to treat their condition without it.
With the implementation of the COEMIG program, the AAGL seeks not only to inform women that minimally invasive procedures are available, but also to help them locate qualified medical centers and surgeons in their geographic area. It is anticipated that the number of designated centers and surgeons will grow exponentially in the coming months and years, both in the U.S. and abroad, echoing the success of other Centers of Excellence programs.
A second important aspect of the program is creation of a data bank that will drive continual improvements in patient care over the long term. Data from COEMIG participants will be routinely entered and analyzed to determine optimal treatment based on patient variables. This information will enable better decision making not only at the individual clinician and patient level, but also at the level of public health and health care policy. The COEMIG data collection effort aligns with those of organizations such as the Agency for Healthcare Research and Quality, which focuses on comparative effectiveness research.
About AAGL
The AAGL is the first and largest organization in the world dedicated to gynecologic endoscopic surgery. Founded in 1971, AAGL works to fulfill its vision of serving women's health care needs by advancing the safest and most efficacious diagnostic and therapeutic techniques that afford less invasive treatments for gynecologic conditions. It does so by fostering the integration of clinical practice, research, innovation and dialogue. The global commitment of the AAGL to women's health care is embodied in its continuing medical education of physicians about the latest and best practices in minimally invasive gynecology. For the past 41 years, the organization has educated the world's finest surgeons so as to improve the lives of women everywhere. For more information, visit http://www.aagl.org.
About the SRC
The Surgical Review Corporation (SRC) is an independent, nonprofit organization governed by industry stakeholders and dedicated to advancing the safety, efficacy and efficiency of surgical care worldwide. Initially focused on bariatric and metabolic surgery, SRC has emerged as the world's leading administrator of center of excellence programs for surgical specialties. The organization manages programs on behalf of top medical societies around the world, setting a global standard for excellence. To support center of excellence program compliance and quality improvement in patient care, SRC developed BOLD, a longitudinal outcomes database. BOLD is now the world's largest repository of clinical patient data for the bariatric surgery specialty. For more information, visit http://www.surgicalreview.org.