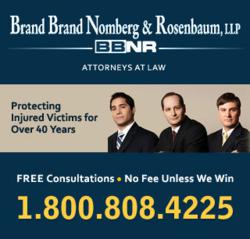 Our new blog showcasing victim's rights in personal injury situations will educate, inform and help consumers in the state of New York.
New York, NY (PRWEB) July 06, 2012
Brett J. Nomberg , from BBNR law launches New York personal Injury Blog with tips and resources for educating the consumer on their rights concerning personal injury in New York state. This resource is provided free of cost on their New York Injury Law Firm Blog website.
Brett J. Nomberg is a partner and the senior trial attorney responsible for managing the personal injury department at BBNRLaw. Mr. Nomberg has been trying personal injury cases for the last 16 years with several recent multi-million dollar verdicts.
"Our new blog showcasing victim's rights in personal injury situations will educate, inform and help consumers so that they can choose the right legal representation and know their rights in the state of new York," says Brett. "Our blog highlights victim's rights for various personal injury cases like Medical malpractice, Hit and Run Accidents, Construction accidents, Dog bites, Auto Accidents, Truck accidents and Ladder/Scaffold accidents.
New York Personal Injury Law Firm Blog is a free resource provided by the law office of BBNRLaw. This blog provides useful personal injury links and articles. BBNR strongly believes in educating New York consumers on their rights and their blog here plans to achieve the same.
Personal injury litigation is a complex area of law that requires years of experience to properly handle a case. The law is filled with numerous time limitations for various procedures that if not followed can irreparably harm a client's case. The value of a personal injury case is dependent on proving liability (fault) and proving damages (injuries). A weakness or strength in either one will affect the value of the case. It is very important to get an aggressive and experienced New York Personal Injury lawyer for your case, considering the complexity involved.
The New York Personal Injury Lawyers at BBNR have been litigating Personal Injury cases for over 40 years. By launching a blog for victim's rights, they bring valuable information right into the screen of consumers, free of cost and available 24/7.
About BBNRLaw:
For over 40 years, BBNR has protected those wrongfully injured by obtaining million dollar verdicts and settlements on behalf of personal injury victims in New York State. If a person's disregard for common sense causes another human being to suffer, New York State law holds that person responsible for that act as a deterrent and as a matter of social justice. The law treats corporations, business, and municipalities with the same standards of responsibility. At BBNR, every client is treated with respect and every case is aggressively prosecuted to obtain a prompt and successful result.
BBNRLaw practice areas include Birth Injuries, Auto Accidents, Brain Injury, Construction Accidents, Dental Malpractice, Falls From Scaffold, Ladder Accidents, Medical Malpractice, Motorcycle Personal Injury, Product Liability, Slip, Trip And Fall, Social Security, Truck Accident, Workers' Compensation and Wrongful Death
"Lawyer Advertising"
"Prior results do not guarantee a similar outcome."