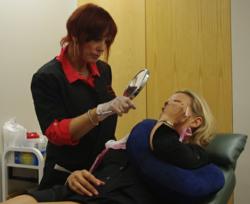 While fireworks injuries have a bigger bang to them, the damage done across the U.S. by the backfiring of cosmetic tattooing may be even more widespread.
New York, NY (PRWEB) July 03, 2012
Americans enjoy freedom. In many states, this includes freedom of choice regarding fireworks. Some 9,600 people (68% male – 32% female) were injured by fireworks in 2011, 4 of them killed, according to a just released by a Consumer Products Safety Commission study. The fireworks report says 65% of the injuries came within 30 days of July 4th festivities.
While fireworks injuries have a bigger bang to them, the damage done across the U.S. by the backfiring of cosmetic tattooing may be even more widespread. Women seeking this time-saving solution for a more beautiful and youthful face are finding themselves looking worse and feeling worse about their appearance.
"It's a growing problem which seems to be rising along with the popularity of permanent makeup," admits Sally Hayes, an expert artist who's performed tens of thousands of successful procedures over her more than 25-year career. "This year, I'm referring more than 20 clients a month with bad permanent makeup so poorly done I can't even fix it right away," says Hayes. "It needs to be removed by costly and painful laser treatments or cosmetic surgery. In my business, this black eye has basically doubled in the past two years."
Like the fireworks industry, permanent makeup is a multi-million dollar industry in the U.S. But because it doesn't have the same kind of regulations on the federal, state, or local government levels, it lacks uniform standards for training and licensing.
"I'm not surprised any more by bad permanent makeup. I'm terrified by it," says prominent Las Vegas Cosmetic Surgeon, Julio L. Garcia, M.D. "People think it seems so easy. It's like too many practitioners know the basic maneuvers but they don't know the impact on the end result. It's like they know some moves but have no clue how to play chess."
Hayes has women come to her offices in New York, Scottsdale, Los Angeles, and Las Vegas, whose dreams of permanent makeup turned quickly into nightmares. "Many women buy into all the daily benefits of permanent makeup, but they don't think enough about who will be providing this service with long-lasting results," says Hayes. "They go in smiling to any technician near their home or place of work, but too often they walk out wearing scary looking eyebrows, eyeliner, or lips, which don't wipe off. And to make matters worse, they're now facing with the ongoing emotional pain of having to spend even more time every day doing makeup trying to hide the mistakes on their face."
Hayes' advice is to research permanent makeup artists before getting any procedures. Look at websites, videos and photos of their work. Seek referrals from those who trust who have had permanent makeup or know about it. Dr. Garcia adds, "It is up to the individual to learn about a cosmetic professional's credentials. This is the key to the whole scenario. And it's important to remember when you trust your face to a proven expert, you're not only paying for their knowledge of what to do for you, but their knowledge of knowing what not to do."
About Sally Hayes Permanent Makeup
Sally Hayes is widely recognized as the permanent makeup industry's expert artist. She is referred and endorsed by many of the country's top cosmetic surgeons, and has performed tens of thousands of procedures as a full-time permanent makeup artist. Her popular website is seen as the leading online authority on permanent makeup.
For more information, visit http://www.permanentmakeup.com.