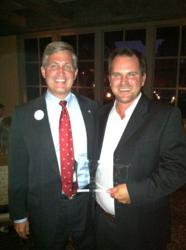 This prestigious recognition can be attributed to my team's hard work and the ongoing support for renewable energy by the region.
San Diego, CA (PRWEB) July 03, 2012
Sullivan Solar Power was named Small Business of the Year at the Celebration of Business Gala hosted by San Diego North Chamber of Commerce Friday evening. The award recognized the company for history of outstanding business practices in the San Diego north community. San Diego is the solar capital of the nation with more solar power systems and capacity installed than any other city in the country. Sullivan Solar Power has designed and installed more solar projects than any other firm in the San Diego Gas & Electric utility territory, making them an industry leader. The company, headquartered in San Diego, grew from an upstart out of a garage to a corporation with annual revenues north of $22 million.
"This prestigious recognition can be attributed to my team's hard work and the ongoing support for renewable energy by the region," said Daniel Sullivan, founder and president of Sullivan Solar Power, "I go to work each day trying to make the world a better place for our future generations."
Sullivan celebrated his victory with his team and twelve-year-old son at the award ceremony, which included notable attendees County Supervisor Pam Slater-Price, Hall-of-Famer Tony Gwynn and San Diego City Councilmember and Mayoral Candidate Carl DeMaio. Solar supporter and Solana Beach Deputy Mayor, Dave Roberts, was also in the crowd and personally congratulated Sullivan after accepting his Small Business of the Year award.
Sullivan's success is a classic tale of the American dream. He started his company with only $2500, his tools and beat up Ford Ranger. When Sullivan Solar Power initially launched in 2004, it was one of the first companies to specialize solely in solar electricity in the region. The firm began by developing residential solar projects which were incentivized under the Rebuild a Greener San Diego Program, the Emerging Renewables Program, and the Self-Generation Incentive Program.
In 2007, the California Solar Initiative was introduced to the State and multiple new companies were formed to capitalize on the $2.1 billion program. Venture capital backed giants moved into the local market, larger commercial electrical contractors began to dabble in residential solar to bolster their faltering financials as they reeled from the Great Recession, and many local startups rushed into the market in an effort to capture some of the solar gold. Sullivan has no shortage of competitors. Today, there are more than 200 companies that service the local utility territory, according to California Center for Sustainable Energy records.
In the month of June, Sullivan Solar Power's team posted record numbers, developing over 580,000 watts worth of residential projects while beginning engineering and design work for the City of Chula Vista's 1-megawatt solar project. Such growth has resulted in Sullivan being ranked as one of the fastest growing firms in the nation and San Diego by both San Diego Business Journal and Inc. Magazine for three consecutive years. Most recently, Daniel Sullivan was named a finalist for San Diego's Entrepreneur of the Year by Ernst & Young.
Sullivan Solar Power has become well known as a local industry leader through its commitment to San Diego and for giving back to the local community. The company has run multiple educational programs throughout the county, providing incentives to residents in addition to the State rebate and Federal tax credit.
In 2012, the firm launched the countywide San Diego Solar Program, the largest privately funded rebate program in the state of California. This innovative program allows residential property owners to get paid up to $2500 to go solar without spending a dime out of pocket. Sullivan Solar Power expects to inject approximately $850,000 into the region as a result of the San Diego Solar Program.
Far from its original garage location, Sullivan Solar Power employees are currently working out of a 14,000 square foot headquartered facility, and growing robustly. This year the company has expanded operations with new offices in Riverside and Orange Counties.
"My team and I aspire to provide all of Southern California the same level of service we have provided San Diego so that increasingly more people go solar each year," said Sullivan.
About Sullivan Solar Power
Sullivan Solar Power is a turnkey solar system provider that delivers solar electric projects from concept to completion. The company has installed over 9,000,000 watts of solar power ranging from small-scale residential to large-scale commercial and municipal systems. Sullivan Solar Power was founded by Dan Sullivan in 2004. Sullivan Solar Power has a longstanding A-plus rating with the Better Business Bureau, with no complaints filed since the business began. The firm has been named one of the fastest growing energy companies in the nation by Inc. Magazine and services all of Southern California. Regardless of project size and scope, Sullivan is committed to delivering the best products and the most qualified professionals to its customers. Visit sullivansolarpower.com for more information.