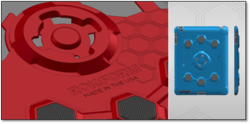 Orange County, CA (PRWEB) July 03, 2012
The new Rokform RokLock v3 protective case for the new iPad and iPad 2 is more than just a case, it's a system. The Patent Pending RokLock integrated mounting system allows the iPad or iPad 2 to mount just about anywhere, so its always accessible. Not only is the RokLock v3 for iPad handy, it's also the best thing to protect your investment. The new RokLock case is Made in the USA from reinforced high impact polycarbonate and includes a Rokgard™ screen protector. It's one of the most protective cases on the market today.
The versatility of the RokLock iPad Case offers accessibility in the car, boat, RV, kitchen cabinet, wall or toolbox. In addition to the standard mounts, Rokform is producing a variety of accessory mounts to use iPad in places you never thought possible. One customer favorite is the Maglok magnetic mount kit (sold separately) which fits discretely behind the anti slip hex grips. The MagLok includes 6 rare earth magnets so the new iPad or iPad 2 will stick to any magnetic surface instantly.
"Our biggest customer request has been to make a RokLock case for the new iPad and iPad 2, we spent months perfecting every detail for the best customer experience possible," said Bernhard Leitner Chief Engineer for Rokform. "I use my iPad every day and cannot even remember what I did without the RokLock v3 case," says Craig Erion President of Rokform.
Roklock v3 Case Includes:

High Impact Polycarbonate Case
RokGard™ Screen Protector
Anti-Slip Hex Grip Inserts
RokLock Mounting system
The RokLock v3 New iPad / iPad 2 case retails for $69. Find out more information at http://www.rokform.com.
Launched in January 2011 Rokform has quickly established itself in the industry by manufacturing uniquely designed and engineered products for the iPhone and iPad. Rokform products include billet aluminum and polycarbonate iPhone 4/4s cases, screen protectors, lanyards and stands. Rokform products are available through select resellers and http://www.rokform.com.