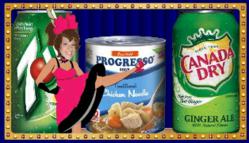 Visit www.ShopRiteCanCan.com to become a ShopRite Can Can dancer!
Keasbey, NJ (PRWEB) July 03, 2012
This summer, ShopRite's legendary Can Can dancers are headed to the beach! The famous summer Can Can sale is right around the corner! This summer marks the 10th anniversary of this annual blowout sale, which begins Sunday, July 8th and runs for two weeks.
It's been 41 years since the January Can Can sale debuted and ShopRite customers just can't get enough. In fact, that's why the Summer Can Can event was introduced ten years ago. The Can Can sale continues to have a loyal and devoted following among ShopRite customers. Over the years, the Can Can Sale has changed and grown. Originally intended to focus solely on ShopRite Private Label products, today many national brands are included, as well.
During the sales event, ShopRite customers can take advantage of amazing values on many summer favorites, traditional picnic fare and barbecue staples – at extraordinarily low prices! Summer Can Can also features many of the favorites customers love from the winter sale like pasta, coffee, canned tomatoes and olive oil.
Although there are no sales figures available from the early days of ShopRite's Can Can sale, the company estimates it has sold more than 3 billion cans over the sale's 41 year history. This includes nearly 100 million bottled and canned beverages, 5 million cans of tomatoes, 5 million cans of vegetables and millions of cans of tuna.
Visit ShopRite's YouTube channel for a sneak peak at the iconic Can Can dancers in their summer gear, kicking it up at the seashore. Another way to celebrate the 10th anniversary of the legendary Can Can Sale is to visit ShopRite's "Get Can Canned" website, which gives visitors the opportunity to become a ShopRite Can Can dancer by uploading a photo which will be placed on the animated dancer's body. The image can be emailed to friends or shared via social media.
The 2012 ShopRite Summer Can Can sale begins on July 8th and runs through July 21st at all ShopRite stores in the Northeast.
###
About ShopRite
ShopRite is the registered trademark of Wakefern Food Corp., a retailer-owned cooperative, based in Keasbey, NJ and the largest supermarket cooperative in the United States. With nearly 250 ShopRite supermarkets located throughout New Jersey, New York, Pennsylvania, Connecticut, Delaware and Maryland, ShopRite serves more than five million customers each week. A long-time supporter of key community efforts, ShopRite is dedicated to fighting hunger in the communities it serves. Through its ShopRite Partners In Caring program, ShopRite has donated more than $27 million to 1,700 worthy charities and food banks since the program began in 1999. As a title sponsor of the LPGA's ShopRite Classic, ShopRite has raised more than $24 million for local schools, hospitals and community groups. For more information, please visit http://www.ShopRite.com. Progressive Grocer named ShopRite its 2011 Retailer of the Year and Supermarket News awarded ShopRite its 2011 Ret